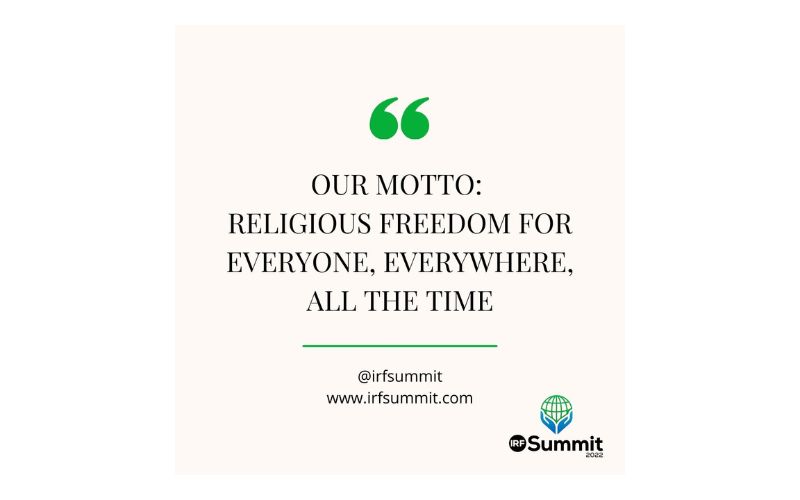 HH Dalai Lama, Enes Kanter Freedom and Senator Marco Rubio to speak at IRF Summit 2022
Washington, DC: The International Religious Forum Summit 2022 will bring together international religious freedom leaders, advocates from around the world, and a diverse coalition that passionately supports religious freedom around the globe. The IRF Summit 2022 will take place from June 28-30, 2022. The IRF Summit 2022 motto is : Religious freedom for EVERYONE, EVERYWHERE, ALL THE TIME.
Keynote speakers including HH the 14th Dalai Lama, Enes Kanter Freedom and Senator Marco Rubio will focus on issues regarding why IRF matters in the modern world and how we can bring attention to the plight of religious adherents who are persecuted, individually and collectively. Together we will raise the profile of international religious freedom and gain political support for the global religious freedom movement.
US Ambassador at large for IRF Rashad Hussain will also speak at the IRF Summit 2022. The IRF Ambassador is principal advisor to the Secretary of State on issues related to religious freedom and leads efforts to monitor freedom of religion and belief worldwide.
In recent years, even as a global religious freedom movement has been launched, levels of persecution and restriction based on faith or belief have increased around the world. It is time to think big. The IRF Summit 2022 will begin with a first-ever Civil Society Congress to develop innovative ideas to reserve these negative trends for international religious freedom.
The Congress will provide organizations and religious communities the opportunity to send a delegation to present their proposal in front of their fellow advocates, as well as a listening panel of government representatives. All proposals will be collected and published in a report.
The Office of International Religious Freedom promotes universal respect for freedom of religion or belief for all as a core objective of U.S. foreign policy. They monitor religiously motivated abuses, harassment, and discrimination worldwide, and recommend, develop, and implement policies and programs to address these concerns.
More details here.
By Team TRC