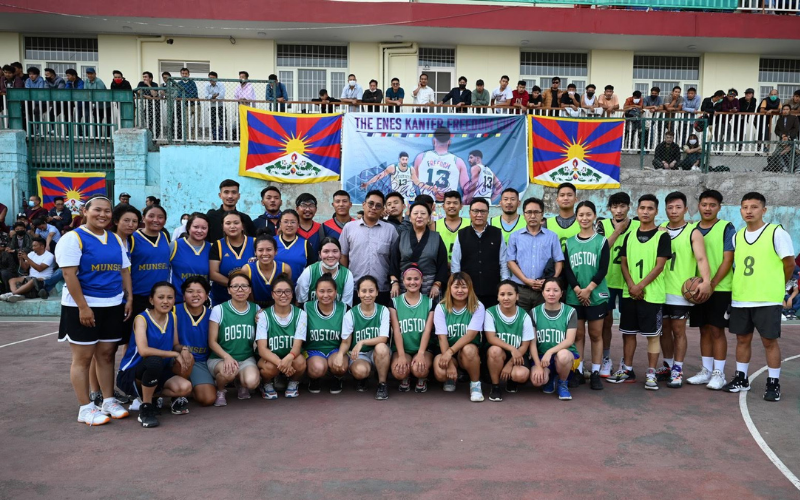 Enes Kanter Freedom Cup Concludes at Dharamshala
Dharamshala: Enes Kanter Freedom Cup tournament organised by five Tibetan youth volunteers based in Dharamshala to express gratitude to former American basketball player Enes Kanter Freedom for his expression of forthright support for the oppressed Tibetans and others living under Chinese rule, concluded here on 30 May 2022.
Kalon Gyari Dolma of the Department of Security, CTA, attended the Enes Kanter Freedom Cup final as chief guest at the Gangkyi basketball ground on 30 May 2022. Secretary Palden Dhondup, Department of Health, Secretary Karma Rinchen, Department of Security, and Tenzin Rinchen, Executive Director of Tibetan National Sports Association, were also in attendance at the final match.
Appreciating the match organisers, Secretary Palden Dhondup characterised the tournament's organisation as well-timed to revitalise after two years of the pandemic which distanced and isolated peoples. He further lauded and ensured support from the department to those who organise sports and dances at such times.
The Enes Kanter Freedom Cup organized by five youth volunteers namely Ngawang Namdol, Tsering Dhargyal, Dukthar, Dhondup Tseten, and Dhondup Tsering was participated by 16 men's teams and 4 women's teams including teams like CTA, Young Dasa, Norling, and others.
Information supplied by Tibet.net
By Team TRC