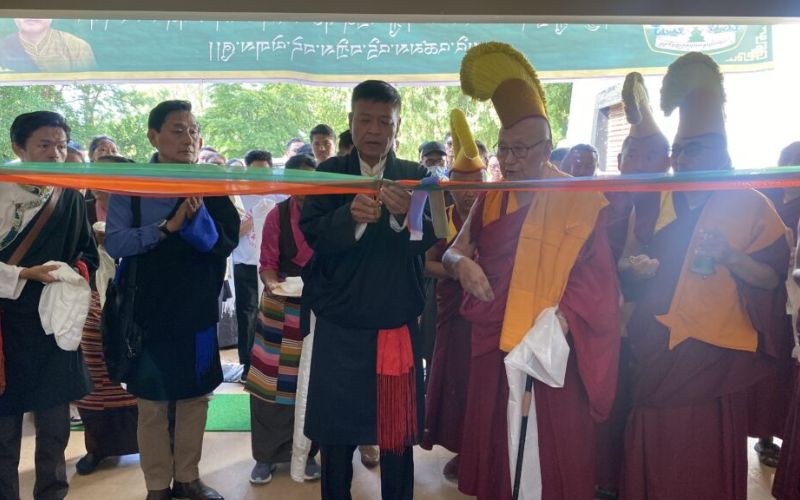 "Examining Reality of Tibet's History Extremely Vital and Beneficial for Resumption of Sino-Tibetan Dialogue": Sikyong Penpa Tsering
Kollegal: Sikyong Penpa Tsering of the Central Tibetan Administration (CTA) whose visit to five Southern Tibetan settlements is underway reached Dhondenling Kollegal settlement. His arrival was warmly welcomed by settlement officer Gelek Jungly led president of Local Tibetan Assembly, representatives of various associations and the members of the community.
As per Sikyong's customary to auspiciously mark the beginning of official engagements, he visited and offered prayers at all 8 monasteries of the settlements followed by an interactive visit to each of 22 camps under the jurisdiction of the Home Department, CTA.
In his public address at Kollegal settlement, Sikyong declared the unfaltering commitment of the 16th Kashag to forging unity within the community and strengthening the connection between both.
Sikyong acknowledged in commend the hard work and contributions of the elder generations for capacitating the sustenance of Tibetan community while keeping intact the unity and national identity of Tibet. To the awareness of the public, he explained the dual objectives of the 16th Kashag-resolving the Sino-Tibet conflict and mitigating the welfare concerns and challenges in exile. As in the former, Sikyong highlighted firm abidance of the Kashag in Middle Way Approach as its fundamental political stand, however, he noted requisites of different techniques to bring about hopeful results.
"China wants to have the world legitimize its occupation of Tibet through its self-serving fabricated narrative which must be straightened out through presentation of factual evidence of Tibet's history," Sikyong remarked as he went on to suggest Michael van Walt's Tibet Brief 20/20. Through decades of active research and collaborations with scholars around the world in understanding the inner and East Asian history, the book presents an imperative understanding of Tibet's history that at no point in history was Tibet legally a part of China except it being an occupied state now.
"Examining the reality of Tibet's history is extremely vital and beneficial for the Resumption of Sino-Tibetan dialogue" Sikyong added. With regard to resuming the impending Sino-Tibetan dialogue, Sikyong explained the constitution of Permanent Strategy Committee headed by Sikyong led relevant senior CTA officials whose expertise in political advocacy will render necessary guidance. Another political endeavor undertaken by the present Kashag was the establishment of VTAG prioritizing the cruciality of youth leadership in pushing advocacy to another level.
Read more details here.
(Information supplied by Tibet.net)
By Team TRC