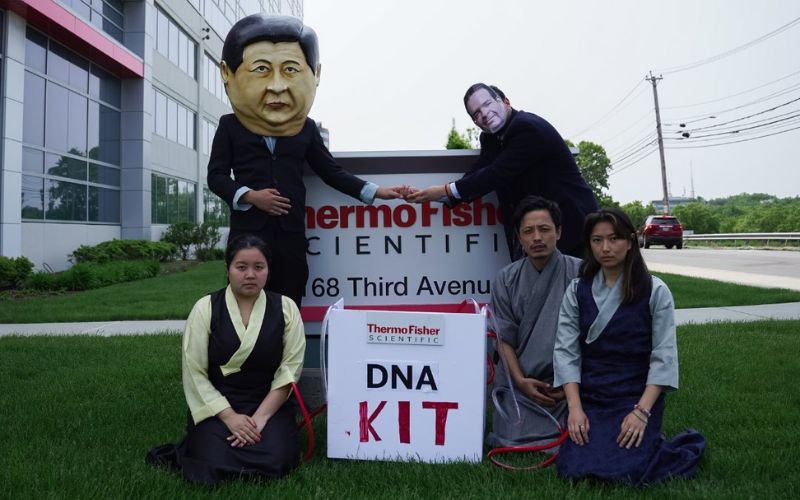 Explained: Thermo Fisher Helping China Steal Mass DNA of Tibetans in Tibet
A worldwide campaign has been organized by a coalition of Tibetan activist groups to once again bring attention to the involvement of Thermo Fisher Scientific, a company based in Massachusetts, in the human rights abuses perpetrated by the Chinese Communist Party. Thermo Fisher's supply of DNA kits is enabling the forced collection of DNA samples and biometric surveillance in occupied Tibet.
Several rights organizations, including Students for Free Tibet (SFT), Free Tibet, International Tibet Network, and Tibetan Youth Association in Europe, have been actively campaigning over the past six months to condemn Thermo Fisher Scientific's ongoing technical support to Chinese police forces in occupied Tibet. They have utilized their social media platforms to express their concerns.
However, when activists from SFT and Free Tibet Organization, accompanied by former Tibetan political prisoner Ngawang Sangdrol, delivered a petition titled "China: Hands Off Tibetans' DNA" to Thermo Fisher's headquarters in Waltham, Massachusetts, the company's staff members refused to accept it. This petition drive, initiated in September of the previous year, has received over 25,000 signatures.
Despite the company's reluctance to engage in a dialogue with the Tibetan activists, the activists staged a symbolic demonstration on the day of Thermo Fisher's Annual General Meeting (AGM) at the company's headquarters. The demonstration aimed to depict the Chinese government forcibly extracting DNA from Tibetans, while also illustrating what the close and problematic relationship between Thermo Fisher's CEO, Marc Casper, and China's Xi Jinping. They demanded that Thermo Fisher immediately terminate its contract with the Chinese government.
Swiss Parliamentary Group for Tibet expressed concerns and called upon Thermo Fisher Scientific Inc. to "dispel doubt" over information concerning its unethical business practices with China, particularly material provided for the mass DNA collection of Tibetans in Tibet.
Last year on September 5, Human Rights Watch released a report titled China: New Evidence of Mass DNA Collection in Tibet. The report revealed that children, including those under the age five, in Tibet are included in the DNA collection drive, which fundamentally violates basic norms of freedom and informed consent.
Another report by The Citizen Lab of the University of Toronto said that the Chinese authorities may have collected roughly between 9,19,282 and 1,206,962 DNA samples in areas of Tibet since 2016. The report further stated that Chinese officials visited fields, monasteries, residential neighborhoods, businesses, and even schools to collect "pin-prick blood samples" from Tibetans.
Tenzin Yangzom, the grassroots director at SFT, recently provided an update on social media regarding her inability to attend the company's Annual General Meeting (AGM) due to unexplained technical issues with the meeting platform. She expressed gratitude for the shareholders who supported their cause and explained that the question she intended to ask the company directly, concerning the cessation of DNA product sales to police in occupied Tibet, has been conveyed in written form through investor relations to Thermo Fisher.
Yangzom emphasized that these shareholders share their concerns and are urging Thermo Fisher to disclose the human rights reviews they have implemented regarding China's utilization of their technology in occupied Tibet. She regarded the renewed support from shareholders as a significant step forward for their campaign.
Research suggests that mass DNA collection campaigns in Tibet are unconnected to criminal investigations and do not appear to require informed consent. An analysis by Emile Dirks, author of the Citizen Lab report, found that between June 2016 and July 2022, police may have collected DNA samples from roughly one-quarter to one-third of Tibet's total population.
In December last year, Commissioners of the Congressional-Executive Commission on China (CECC) and Tibetans asked for answers from Thermo Fisher Scientific about the supply chain related to China's mass collection of DNA in Tibet. The Commission had also expressed concern in a written letter sent to Marc Casper, Chairman and CEO of Thermo Fisher Scientific, that use of his company's products for mass DNA collection in Tibet "could enable further gross violations" of the human rights of ethnic minorities in China.
Rights groups have documented a rise in surveillance, cultural and religious suppression, as well as restrictions on freedom of movement in the Tibet Autonomous Region (TAR) in recent years. The United Nations expressed concern in February about the separation of over 1 million Tibetan children from their families. These children have been placed in residential schools where they are subjected to forced assimilation in terms of culture, religion, and language.
According to the New York Times, Thermo Fisher, a company known for DNA testing equipment, has reportedly sold its products to nine Chinese cities and counties, customizing them specifically for Chinese police use. The company had previously sold kits to law enforcement agencies in Xinjiang until 2019 when it decided to cease sales, citing alignment with their values, ethics code, and policies. Subsequently, the Trump administration prohibited the sale of American goods to law enforcement agencies in Xinjiang.
Edited and collated by Team TRC