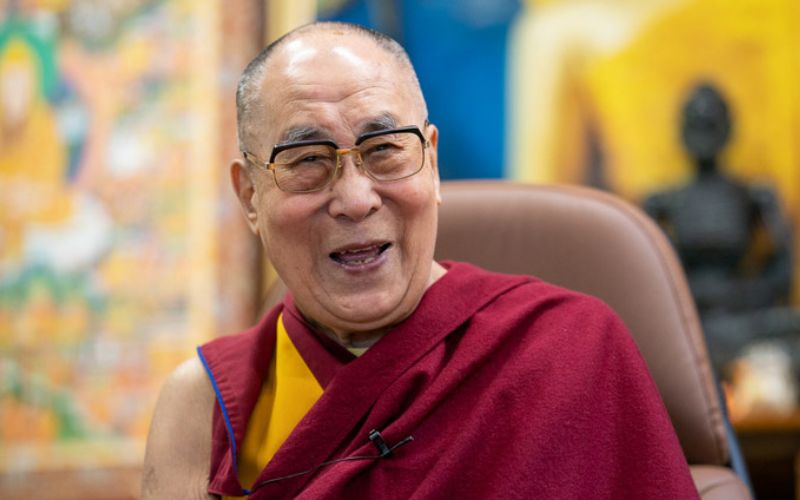 His Holiness the 14th Dalai Lama to Visit Sikkim in October on a Five-Day Trip
In a momentous announcement, Chief Minister Prem Singh Tamang revealed that the 14th Dalai Lama, the revered spiritual leader of Tibetans, will embark on a five-day visit to Sikkim from October 10th to October 14th. This eagerly anticipated visit was confirmed through an official release from the Himalayan state on Wednesday.
Chief Minister Tamang, also known as P.S. Tamang (Golay), convened a significant meeting at his official residence, Mintokgang, located in the state capital of Gangtok, to discuss the details of the Dalai Lama's impending visit.
In an impassioned statement, Chief Minister Tamang expressed his delight and anticipation for the visit, stating, "The Dalai Lama will reach Sikkim on October 10 and will return on October 14. Ever since we formed the government in 2019, it has been our continued effort to extend an invitation to His Holiness to visit Sikkim and seek his blessings. Finally, our effort is seeing fruition this year. So, we should leave no stone unturned in making the visit (of the Dalai Lama) a historic and memorable one."
Notably, Chief Minister Tamang had a personal meeting with the Dalai Lama in Delhi earlier this year, reinforcing the state's commitment to inviting His Holiness.
To ensure the seamless execution of the Dalai Lama's visit, a series of committees have been established. Chief Minister Tamang will lead the principal committee in the capacity of Chief Patron, with the state minister of the ecclesiastical department serving as the Patron. The Chief Secretary will preside as the committee's chairperson.
According to reports, China renamed 15 places in Arunachal Pradesh in 2021 to show its displeasure to India for allowing the Dalai Lama to visit the Tawang monastery in Arunachal Pradesh and address religious congregations.
Here, it is also important to understand that China's renaming of places in Mandarin is part of its narrative warfare toolkit and a continuation of its desperate attempt to Sinicize Tibet. Interestingly, as observed by twitter user @Kyangs_Thang, it is a "more direct Mandarin transliteration of Tibetan than name changes." Also, the names seem to be "made up in Tibetan words, but very unimaginative" and the Chinese names are basically "Tibetan names spelled in pinyin", as observed by Twitter user @snowlion1949. This also shows how the "PRC selectively uses the active residues of the past while claiming places in India's Arunachal Pradesh", as rightly observed by @JigmeYesheLama.
Sikkim, nestled in the mountains at the India-China border, boasts a substantial Buddhist population, accounting for approximately 28 percent of its inhabitants. Additionally, the state is home to hundreds of Tibetan residents.
This visit holds significant cultural and spiritual importance, as it marks a renewed connection between the Tibetan spiritual leader and the people of Sikkim. The Dalai Lama's last visit to Sikkim was in 2010.
As preparations are underway to welcome His Holiness, the people of Sikkim and beyond eagerly anticipate the opportunity to receive his blessings and wisdom during this historic visit.
Edited and collated by Team TRC