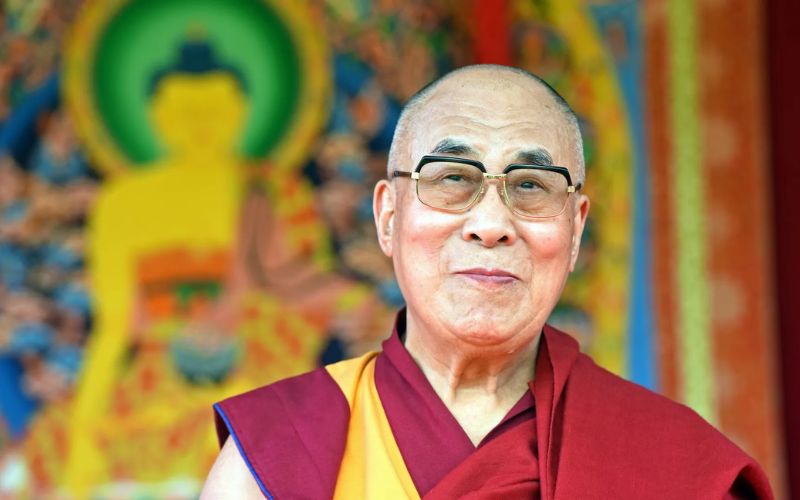 His Holiness the Dalai Lama Announces Year-End Dharma Promotion Itinerary includes visits to Sikkim, Sera Monastery, Bodh Gaya, and More
His Holiness the Dalai Lama has unveiled his end-of-year Dharma promotion itinerary, responding to prayers and invitations from various Buddhist institutions and believers. The spiritual leader of the Tibetan people will embark on a series of visits and teaching engagements at sacred sites across India, offering valuable teachings to his followers.
On September 27, 2023, His Holiness will attend the inauguration ceremony of the new Buddhist college at the "Tashi Jongkang Gardrup Buddhist College" in North Palampur, India. During this event, he will also impart teachings on the "Eight Verses of Mind Training" to the attendees.
Starting in October, His Holiness will fulfill the requests of believers by visiting Sikkim, Sera Monastery, and Tashi Lhunpo Monastery in southern India, along with the holy Buddhist site of Bodhgaya. During these visits, he will continue to share the profound wisdom of Buddhist Dharma with devotees.
The Dalai Lama's official website outlines a comprehensive itinerary for his upcoming engagements. Highlights include:
1. October 2-4: Teaching sessions in Dharamsala, northern India, covering topics such as the "Song of the Stages of the Bodhi Lam," "Seven Meanings of Mind Training," and "Four-Armed Avalokitesvara Initiation," in response to the prayers of Buddhist believers in Taiwan.
2. October 11-12: Visit to the state of Sikkim, India, where he will teach the "Thirty-seven Verses of the Buddha's Acts by Asanga" and the "Comprehensive Collection of Padmasambhava's empowerments" on request from the government of Sikkim.
3. October 15: Teaching the "Aspirational Sadhana" to believers at the Salugu Rense Sect Tantric College in West Bengal, India.
4. November 26: Visit to the Sera Monastery in southern India to teach the "Three Main Paths" of Master Tsongkhapa in response to the prayers of the Mai Sutra Academy.
5. December 3: Imparting the longevity initiation of White Tara to believers at the Jie Sutra Academy of Sera Monastery in South India.
6. December (dates TBD): Teaching the "Song of the Bodhi Path" at the Tashi Lhunpo Temple in southern India and participating in a longevity ceremony held at the temple.
7. December 29-31: Teaching Nagarjuna Bodhisattva's "Praise to the Dharma Realm" and Manjushri Sutra to believers at the Kalachakra Dharma Conference Venue in Bodhgaya, a revered Buddhist site in India.
His Holiness the Dalai Lama's forthcoming engagements promise to provide valuable spiritual guidance and teachings to his devoted followers, fostering a deeper understanding of Buddhist Dharma and promoting peace and compassion.
Edited and collated by Team TRC