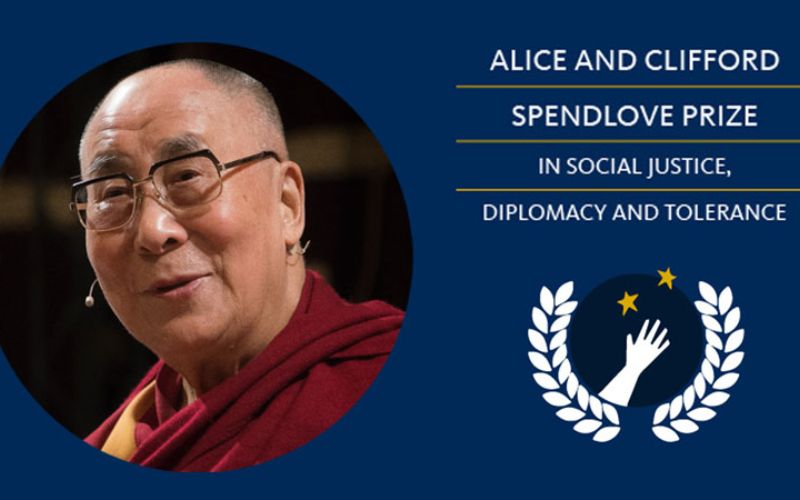 His Holiness the Dalai Lama Awarded Spendlove Prize in Social Justice
Source: Tibet.net
Dharamshala: Tibetan Spiritual leader, His Holiness the Dalai Lama was among the 15 honorary recipients of the Alice and Clifford Spendlove Prize in Social Justice, Diplomacy and Tolerance for his life-long advocacy for peace, compassion and kindness. A celebration honoring the 15th prize recipient via a pre-recorded presentation will take place on Monday, 26 September 2022.
His Holiness was officially presented with the Spendlove Prize in a virtual ceremony held on 18 September, prior to the observance of the International Day of Peace on 21 September where this year's theme "End racism. Build peace" was declared by the UN.
"In our increasingly politically-divided and highly confrontational world, the messages of kindness, peace, compassion and forgiveness of His Holiness the 14th Dalai Lama are helpful, not only in advancing sustainable social justice using non-violent methods but also as a path to better interpersonal relations and a more meaningful life," said Sherrie Spendlove, who established the Spendlove Prize at UC Merced which was founded in 2005 in honor of her parents, Alice and Clifford Spendlove who dedicated their entire lives for citizens, youth and students of the Merced region.
Every year, an individual or an inspirational figure is honored with the Spendlove award for serving as an active role model for students, faculty and the community surrounding UC Merced. The prize has an annual value of $15,000.
"In naming the Dalai Lama the latest recipient of the Spendlove Prize, UC Merced recognizes a global spiritual leader committed to expressing the importance of happiness, compassion, warm-heartedness, self-discipline, friendship and human solidarity amongst our diversity," said Professor Nigel Hatton, with the Department of Literatures, Languages and Cultures, and moderator of the presentation.
"This has been the Dalai Lama's goal across several decades of leadership, countless speeches and teachings to communities across the world, and now, a great trove of inspirational and informative social media posts," said Hatton. "His Holiness embodies not only the importance of spiritual life, but also the examined mind. As he recently noted, 'since human beings have a natural ability to think things through, education is a key factor in creating a better future.'
"His sustained commitment to these and other important human values led the Spendlove Prize Selection Committee to name His Holiness the 15th recipient of the prize, uniting him with his friend, former President Jimmy Carter, as distinguished Spendlove laureates."
The Spendlove Prize Selection Committee is chaired by School of Social Sciences, Humanities and Arts Dean Jeffrey Gilger, Sherrie Spendlove as a representative from the Spendlove family, Hatton as a faculty member, and Lee Anderson and Charlie Bennett as community representatives.
Edited & Collated by Team TRC