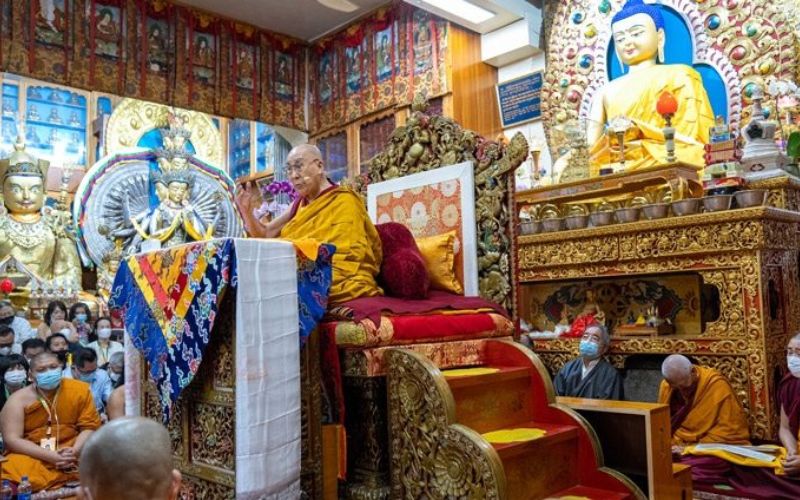 His Holiness the Dalai Lama concludes Teaching Today
Dharamsala: His Holiness the Dalai Lama given a two-day teaching on Chandrakirti's Entering the Middle Way in conjunction with the Autocommentary at the request of a group of Southeast Asians at the Main Tibetan Temple in Dharamsala on September 15-16, 2022.
On 15 Sep 2022, a group of Thai Buddhist monks recited the Mangala Sutta in Pali as His Holiness the Dalai Lama took his seat on the throne in the Tsuglagkhang, the Main Tibetan Temple in Dharamsala. There followed the chanting of the 'Heart Sutra' in Chinese, including the prayer that Chinese recite at the end that encapsulates the practice of the Dharma.
His Holiness noted that "I memorized the 'Ornament for Clear Realization' and 'Entering into the Middle Way' when I was a boy. The 'Ornament' deals mostly with the Bodhisattva paths and grounds, the method aspect of the path. 'Entering into the Middle Way' reveals the wisdom understanding emptiness. Distorted views are not dispelled by saying mantras, but by developing understanding. There are different sets of reasonings used to disprove the objective existence of things: the reasoning known as Diamond Slivers, the reasoning refuting existent or non-existent effects, the reasoning refuting the four permutations of arising, the reasoning refuting existence as 'neither one nor many' and the great reasoning of dependent arising.
"The verse I recited at the start is powerful because it makes clear that the Buddha taught to help beings eliminate their distorted views. When I reflect on emptiness, I focus on three verses from chapter six of 'Entering into the Middle Way' which disclose absurd consequences that would prevail if things were to exist objectively."
His Holiness noted that the Buddha undertook six years of austere practice and discovered that single-pointed concentration alone did not overcome distorted views. Later, masters like Nagarjuna examined what he taught in the light of logic and reasoning. They made clear that things do not exist as they appear. The Nalanda Tradition emerged from their findings and this tradition survives today.
"As human beings," His Holiness remarked, "we have the opportunity to study the Dharma, to understand and experience it. When I was young, I memorized important texts, listened to my tutors' explanations of them and thought about them deeply. In exile, I was able to really reflect on what I'd learned, so, from that point of view, coming into exile was like a blessing in disguise. It's through study, reflection and meditation that transformation takes place.
Read the complete news here.
By Team TRC