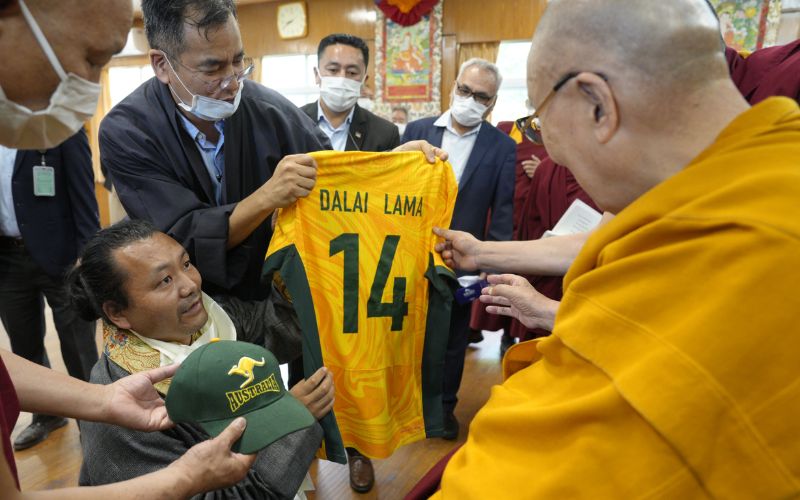 His Holiness the Dalai Lama Engages in Inspiring Audience with 28th GCMGC Participants
His Holiness the 14th Dalai Lama granted an audience to executive members, organizing team, referees and the participants of the 28th Gyalyum Chemo Memorial Gold Cup (GCMGC) football tournament on Tuesday at his residence in Dharamshala. Addressing the teams, the spiritual leader urged them to take pride in their Tibetan heritage and cultural identity.
Sixteen Tibetan football squads, hailing from Europe, Australia, Nepal, and various other regions, have gathered for the highly anticipated tournament. Dedicated to the memory of the Dalai Lama's late mother, the tournament will take place at the Upper TCV School ground in Dharamshala until June 11.
During the audience, His Holiness the Dalai Lama interacted with players individually, sharing words of wisdom and encouragement. One particular encounter caught the attention of His Holiness when a young Tibetan Australian player named Shiwa with moist eyes approached him.
"Be happy and live a purposeful life. As a Tibetan, you should take pride in our rich Tibetan religion and cultural heritage," His Holiness expressed warmly to the young Tibetan Australian player, emphasizing the significance of embracing their Tibetan identity.
The Australian team presented His Holiness the Dalai Lama with a jersey bearing his name and the number 14, symbolizing his position as the 14th Dalai Lama. Appreciating the gesture, His Holiness expressed his joy and gratitude for the souvenir.
Later, Tibetan National Sports Association (TNSA) presented the newly launched Tibetan National team jersey and gold medal of 28th GCMGC to His Holiness the 14th Dalai Lama. TNSA is a registered non profit sports body looking after the fitness, health & grooming of Tibetan youth in exile through sports.
The Gyalyum Chemo Memorial Gold Cup is an annual football tournament that has been organized since 1981. Its primary purpose is to unite and empower the Tibetan diaspora community, allowing them to preserve their unique identity and culture.
The GCMGC aims to inspire young Tibetans to adopt a healthy lifestyle and positive habits. The tournament encourages participants to steer clear of detrimental behaviors and instead focus on nurturing their physical and mental well-being.
Edited and collated by Team TRC