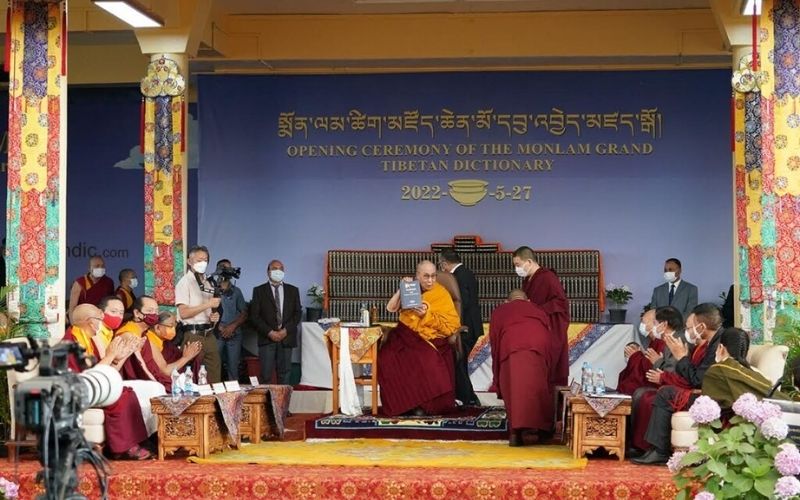 His Holiness the Dalai Lama Inaugurated the New Monlam Grand Tibetan Dictionary
Dharamshala: His Holiness the Dalai Lama today inaugurated the new Tibetan Monlam Dictionary prepared by Monlam Tibetan IT Research Center at Tsuglakhang in Mcleod Ganj.
The opening ceremony of the dictionary was attended by Sakya Gongma Trichen Rinpoche, 43rd Sakya Trizin Khondung Gyana Vajra Rinpoche, 34th Menri Trizin Lungtok Dawa Dargyal Rinpoche, 42nd Sakya Trizin Ratna Vajra Rinpoche, 7th Kyabjé Yongzin Ling Rinpoche, 11th Kirti Rinpoche Lobsang Tenzin Jigme Yeshe Gyamtso Rinpoche, Ringu Tulku Rinpoche, and former Kalon Tripa Professor Samdhong Rinpoche as special guests.
The leadership of the Central Tibetan Administration also attended the grand opening ceremony including pro-tem Chief Justice Commissioner Karma Dadul, Speaker Khenpo Sonam Tenphel, Sikyong Penpa Tsering along with Education Kalon Changra Tharlam Dolma, Security Kalon Gyari Dolma, DIIR Kalon Norzin Dolma. Members of the 17th Tibetan Parliament and the secretaries of the various departments of the Central Tibetan Administration also took part in the ceremony.
Following the inauguration of the dictionary by His Holiness the Dalai Lama, the founder and director of Monlam Tibetan IT Research Center, Geshe Lobsang Monlam, gave a brief introduction on the formation of the Center, highlighting the contributions of around two hundred scholars from both inside and outside of Tibet for the materialization of the dictionary.
Given the easy accessibility of digitized copies, Sikyong remarked that soft copy would benefit in preservation of Tibetan language while urging for maximum utilization of dictionary to the audience. Sikyong further appealed to Tibetans to put efforts into preserving and promoting Tibetan language, especially given China's imposition of severe restrictions on learning Tibetan language in Tibet.
Before concluding his speech, Sikyong emphasized standardization of Tibetan terms under a single central authority for benefits in the distant future, assuring provisions of necessity support from the Central Tibetan Administration and hailed the inaugural ceremony as historic.
Read more details here.
(Information supplied by Tibet.net)
By Team TRC