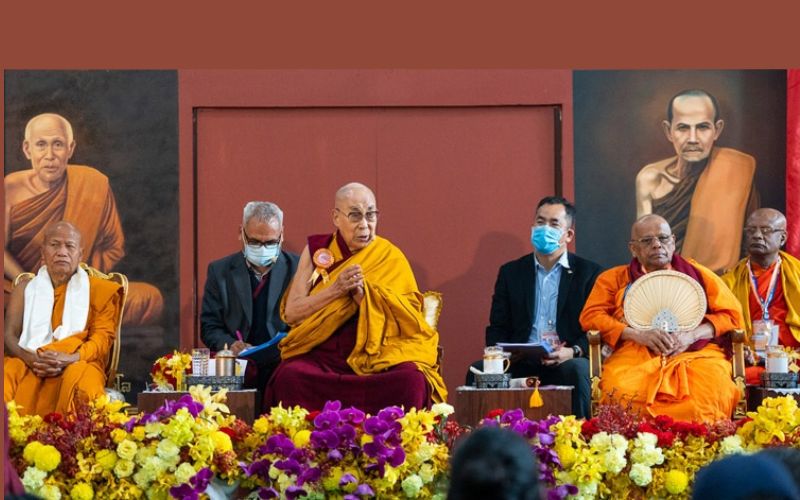 His Holiness the Dalai Lama inaugurates five-year Bhikkhu exchange programme
Source: Dalai Lama
Bodh Gaya: Tibetan Spiritual leader His Holiness the Dalai Lama on Tuesday inaugurated the five-year 'Pali and Sanskrit International Bhikkhu Exchange Programme 2022-27', at Watpa temple in Bodh Gaya. The monks at the temple greeted His Holiness warmly and escorted him inside.
His Holiness was invited to consecrate a Buddha statue before taking his seat on the platform, alongside other guests such as Ven Dr Warakagoda Dhammasiddhi, Sakya Gongma Trichen Rinpoché, and the Gaden Tri Rinpoché. The programme started with holy prayers in Pali and Sanskrit, offered by the monks.
Ven Khensur Lobsang Gyaltsen began his welcome address by paying his respects and thanking His Holiness and the principal guests for their presence. He explained that the five-year Pali and Sanskrit International Bhikkhu Exchange Program, which was launched today, is part of His Holiness' commitment to promote human values, encourage harmony among the world's religious traditions, ensure the preservation of Tibetan culture, and prompt a revival of awareness of the value of ancient Indian knowledge.
Addressing monks, nuns and other devotees present on the occasion the Dalai Lama said, "We all want to be happy, therefore we should seek friendship and harmony between us. Since religious practice is about cultivating goodwill and affection it's very sad when we witness quarrelling among members of this or that tradition. As far as we are concerned, we must do our best to follow the teaching of the Buddha sincerely. If the Buddha were to observe us arguing or criticising each other, I think he might ask us not to do that."
Regarding the Pali and Sanskrit traditions, His Holiness said "We follow the same teacher and essentially the same teaching, therefore there's every reason why there should be harmony between us whether we belong to the Pali or Sanskrit tradition."
In the first phase of the five-year plan, selected monks will visit different places within India, while next year they will go to Thailand followed by Sri Lanka. The monks will carry out a study on Buddhism following Pali and the Sanskrit tradition.
Edited & Collated by Team TRC