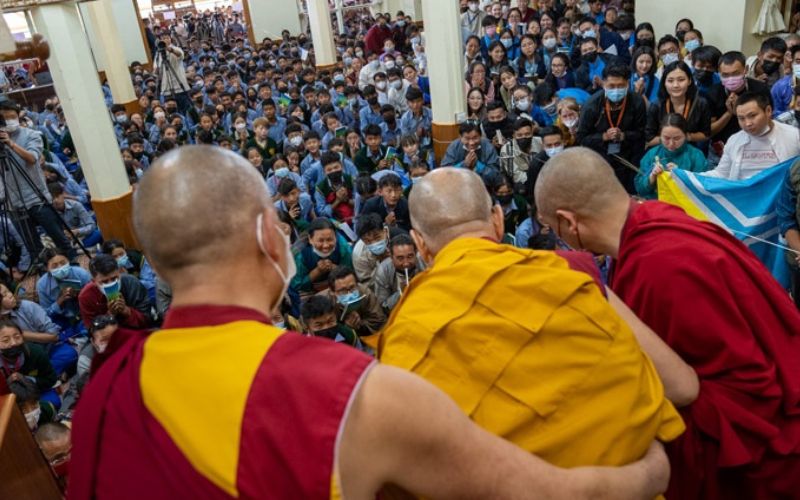 His Holiness the Dalai Lama speaks to Tibetan Youth on the First Day of Teaching
Dharamshala: Yesterday, on the second day of Saga Dawa, the most sacred month in the Tibetan Buddhist Year, His Holiness the Dalai Lama gave "In Praise of Dependent Origination and & Avalokiteshvara Empowerment" teaching to Tibetan Youth here at the Tsuglagkhang, the Main Tibetan Temple.
Holiness the Dalai Lama, while talking about the Kyirong Jowa statue in the glass case behind him during the first day of his Teachings for Tibetan Youth in Dharamsala, mentioned, "Here we have the statue known as Wati Sangpo or Kyirong Jowo. During the time of the Fifth Dalai Lama this statue and another one similar to it, the Avalokiteshvara brothers, were brought together in the Potala and my predecessor meditated in their presence". "Monks of Dzongkha Chödé Monastery and members of Chushi Gangdruk were involved in bringing this Kyirong Jowo out of Tibet to Nepal. Eventually it was brought here to Dharamsala and placed in my safe-keeping", said H.H Dalai Lama.
His Holiness revealed that he expects to reach the path of preparation in this life. With regard to the correct view, he cited three verses from chapter six of 'Entering into the Middle Way' that mention the four logical absurdities that ensue if it is asserted that things and beings exist inherently. They are that a noble being's mind, totally absorbed in emptiness, would be a destroyer of entities; that conventional truth would withstand the analysis of a reasoning mind; that the absolute production of things could not be denied, and that the Buddha's statement 'phenomena lack self-existence' would not hold true.
Read more details here.
(Information supplied by Tibet.net)
By Team TRC