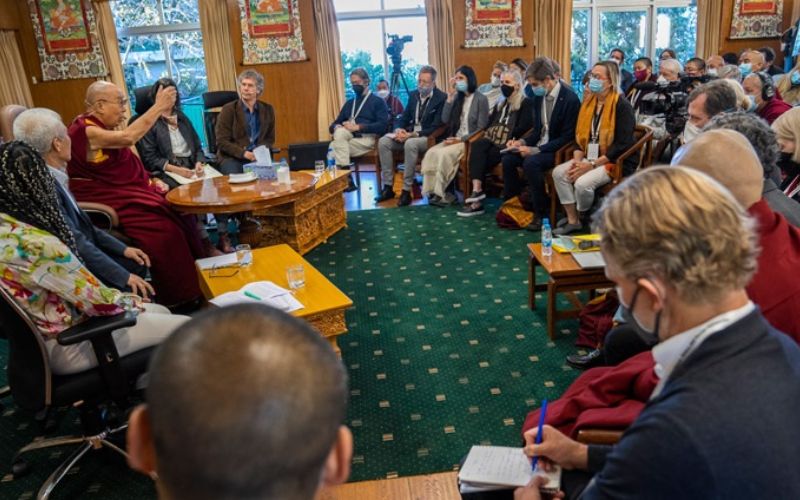 His Holiness the Dalai Lama urges to cultivate compassion and use technology for the benefit of humanity
Source: RFA
Dharamshala: Tibet's exiled spiritual leader His Holiness the Dalai Lama urged people to train their minds to cultivate compassion and cautioned that digital technology should be used only to benefit humanity, at a two-day gathering in northern India that ended Thursday, reported Radio Free Asia.
About 180 people attended the two-day Mind & Life Conversation on Interdependence, Ethics and Social Networks in the audience hall at the Dalai Lama's residence in Dharamsala, a hillside city in the Indian state of Himachal Pradesh that is home to the Tibetan government-in-exile.
About 100 attendees were Western scientists and scholars and members of the Mind & Life Institute, an organization whose mission is to inform and advance the emerging field of contemplative science and its application to real-world challenges.
Among the other attendees were Tibetan monks and nuns who have participated in science programs at Emory University, students of science from the Tibetan Medical & Astro-Science Institute, the Library of Tibetan Works & Archives, and lamas and abbots from the centers of learning at monasteries in South India.
Training the mind in cultivating compassion involves developing thoughts of even-mindedness, or equanimity, the Dalai Lama said.
"We've held a lot of Mind & Life dialogues, and I feel they've been very important," he said on the first day of the event on Oct. 12, according to a report on the Dalai Lama's official website. "In the world at large, a great deal of attention has been paid to physical things, but much less to the mind. And yet, when we talk about happiness and suffering, they are inner, mental experiences. If we have no peace of mind, we won't be happy."
"Many of the conflicts we see in the world are about physical things, material resources and power," the Dalai Lama went on to say. "Therefore, we need to look at what went on in the past and learn from it so that we can construct a future based on peace, happiness and togetherness."
"The root of peace of mind is compassion," he said. "As soon as most of us are born, our mothers take care of us and give us our first lessons in compassion. Without this we would not survive. This is how our life begins. As children we grow up in an atmosphere of compassion."
"Generally speaking, whether or not technology can be thought of as good or bad depends on how it is used," he said on the second day of the gathering, according to a report on his official website. "We human beings should not be slaves to technology or machines. We should be in charge."
When humans are too materialistic, they regard human values as being of secondary importance, noted His Holiness.
Read the complete news here.
Edited & Collated by Team TRC