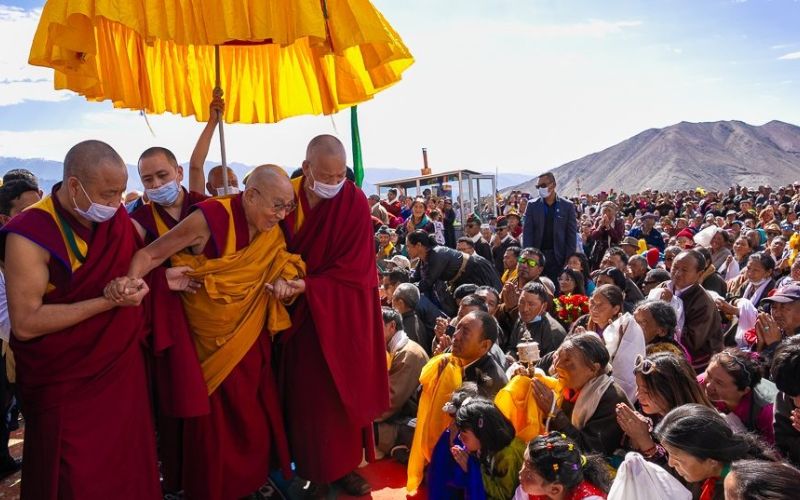 His Holiness the Dalai Lama Visit to Stok Village Reinforces Commitment to Spiritual Growth and Learning
On Monday, 31st July 2023, His Holiness the Dalai Lama embarked on a momentous visit to the Stok village's majestic golden Buddha statue, an occasion marked with great joy and warm reception from the local community.
Adorned in their finest attire, villagers lined the road, showering the spiritual leader with flowers and silk scarves to celebrate his arrival. The surroundings were adorned with pots of vibrant flowers, adding to the festive atmosphere.
Under the protection of an ornamental yellow silk umbrella, His Holiness performed sacred rites upon his arrival. He proceeded to the temple beneath the colossal Buddha statue, lighting a butter lamp and offering flowers to mark the auspiciousness of the occasion.
The visit placed significant emphasis on learning and spiritual growth. Geshé Tsewang Dorjé, a village spokesman, shared the community's unwavering dedication since 2016 to reading Buddhist scriptures, studying Tibetan, and practicing Buddhism and science. Notably, elder villagers have made remarkable progress in learning to read texts and prayers, which was previously beyond their reach.
During his address to the crowd, His Holiness stressed the importance of dependent arising, the illusion of inherent existence, the purpose of meditation, the significance of kindness, and the teachings of Buddhism. He urged the community to focus on cultivating good hearts and peace of mind, emphasizing that Buddhism involves more than blind faith; it necessitates the transformation of the mind through study, reflection, and experience.
The visit featured a lively song and dance presentation praising His Holiness, accompanied by the rhythmic beats of drums and horns.
Geshé Tsewang Dorjé expressed gratitude to His Holiness for his second visit and reiterated the community's steadfast commitment to studying, reciting, and following his guidance.
The visit culminated with His Holiness driving down to the residence of the Stok Gyalmo, the former Queen of Ladakh, where they engaged in light conversation over tea. He later greeted well-wishers before returning to Shewatsel Phodrang.
The visit has not only deepened the spiritual bond between His Holiness and the Stok villagers but has also reinforced the community's unwavering dedication to continuous learning, mindfulness, and the pursuit of peace and enlightenment. It serves as a shining example of their commitment to following His Holiness's teachings and guidance in their journey towards spiritual growth and harmony.
Edited and collated by Team TRC