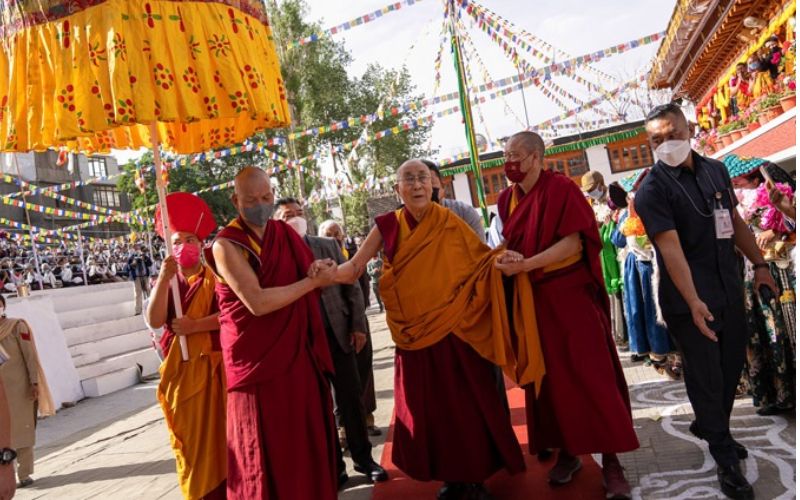 His Holiness the Dalai Lama Visits Jokhang, Mosques and a Church in Leh, Ladakh
Ladakh: Having arrived in Ladakh on 15th July, His Holiness the Dalai Lama undertook his first public engagements on 23rd July, making pilgrimages to the Jokhang, the principal Buddhist Temple in the centre of Leh, the Jama Masjid and Anjuman-e-Imamia mosques, as well as the Moravian Church in Leh.
His Holiness was welcomed on arrival at the Jokhang by Thupten Chhewang, President of the Ladakh Buddhist Association and other dignitaries. Once inside, His Holiness paid his respects before the statues of the Buddha, Manjushri, Thousand Armed Avalokiteshvara, and Guru Padmasambhava. He warmly greeted the guest's representing monasteries, NGOs and others before taking his seat facing the statue of the Buddha that emulates the Lhasa Jowo.
His Holiness began by greeting all those assembled in the Jokhang and in the courtyard outside, "Tashi Delek, we are all very old friends and the bonds between us are rock-solid. I'd like to thank you for your faith and devotion, which I take as a source of encouragement. It is very important that we study the Dharma, reflect on what we've learned and then put into practice what we've understood. We should study the Three Baskets, which comprise the words of the Buddha, and engage in the practice of the Three Trainings."
From the Jokhang His Holiness went to the Sunni Mosque, the Jama Masjid. He told the audience gathered there what a pleasure it was for him to make a pilgrimage to this place of worship, which is consistent with his commitments to foster inter-religious harmony. "It is my practice to offer prayers at other people's places of worship whenever I can. Since all religions convey a message of compassion, even though their philosophical views may differ, they are worthy of respect." said His Holiness.
Next, His Holiness visited the Shia Mosque known as Anjuman-e-Imamia. His Holiness remarked that India has a good, long-standing custom of religious harmony that is especially evident in Ladakh. "Since we human beings are all the same, mentally, physically and emotionally, and since we all seek happiness and have a right to be happy, we should always try to help one another whenever we can."
Read the complete news here.
By Team TRC