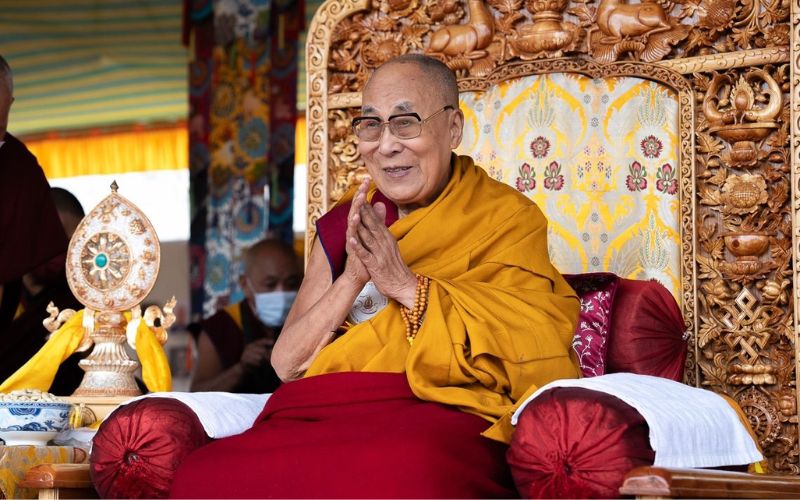 His Holiness the Dalai Lama Visits Lamdon Model Senior Secondary School in Ladakh
Lamdon Model Senior Secondary School in Leh, Ladakh, India, marked a momentous occasion on August 7, 2023, as it celebrated its Golden Jubilee with great pomp and grandeur. The highlight of the celebration was the presence of the esteemed guest, His Holiness the Dalai Lama, who graced the event with his wisdom and inspiration.
Upon his arrival at the Lamdon Model Senior Secondary School, His Holiness was greeted by a welcoming committee and escorted to a stage adorned with an awning above the school ground. The celebration commenced with a respectful homage paid before a statue of Buddha, and the lighting of a ceremonial lamp to mark the auspicious beginning.
In his address to the gathering, His Holiness the Dalai Lama expressed his appreciation for the devotion and dedication to the Buddha Dharma displayed by the people of Ladakh and the Himalayan Region. He commended their courage and steadfastness in the face of challenges and highlighted the importance of combining wisdom and compassion in one's practice.
His Holiness spoke about the increasing interest of scientists in understanding the mind and emotions and the growing appreciation of the Nalanda Tradition that emphasizes ethics, concentration, and insight. He urged students to not only recite the refuge verse but also to engage in the study of Madhyamika thought, logic, and the theory of knowledge.
Throughout his address, His Holiness emphasized the value of love, compassion, and wisdom, and he encouraged harmony among different religions while respecting each one's teachings. He encouraged students to cultivate intelligence and compassion, and he concluded by urging them to engage in the practice of the 'Eight Verses for Training the Mind', imparting the wisdom that leads to Buddhahood.
During the event, His Holiness unveiled a plaque inaugurating the 14th Dalai Lama Open Stadium and launched a series of books and the Golden Jubilee program. The festivities were further enriched by student presentations showcasing their debating skills and a performance of the school song that traces its name to Atisha's seminal work, 'Lamp for the Path to Enlightenment'.
The program continued with touching personal tributes from the Head Girl, Tsering Angmo, and the Head Boy, Nawang Namgail. Both students expressed their gratitude for the transformative education they received at the school and emphasized the integration of modern education with inner values, in alignment with His Holiness's guidance.
Phuntsok Angchuk, President of the Lamdon Social Welfare Society, extended a warm welcome to all attendees, highlighting the school's journey from its humble beginnings to its current status as a Senior Secondary School. He emphasized the integration of Buddhist philosophy and teachings on love and compassion into the curriculum, acknowledging the pivotal role of His Holiness and Ven Kushok Bakula Rinpoché in the school's growth and development.
Edited and collated by Team TRC