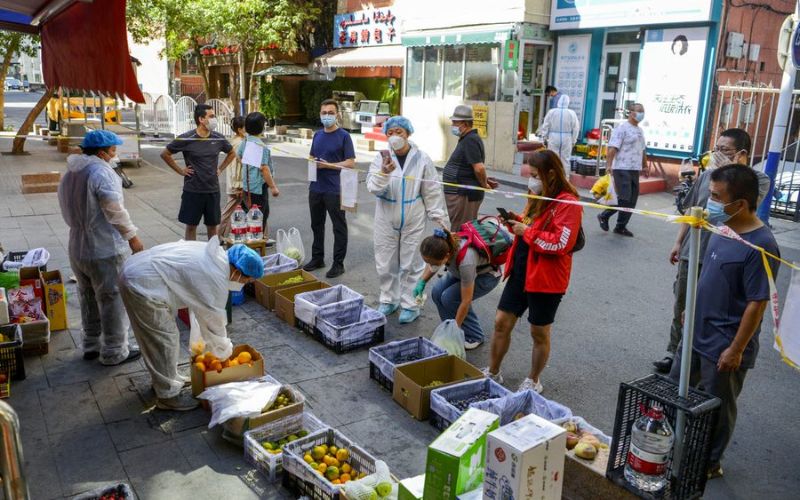 'Hunger Genocide' underway in Xinjiang: Uyghurs suffer under CCP regime's Zero COVID Policy
Uyghur NGOs in Istanbul on Monday demonstrated near the Chinese Consulate in Sariyer district against China's 'Hunger Genocide' under the pretext of controlling the Covid-19 pandemic, while forcing a lockdown in areas of East Turkestan as a precaution against the surge in Covid-19 cases.
According to local media reports, around 3,000-3,500 protestors including women and children gathered outside the Chinese Consulate in Sariyer district at around 11 am despite rain showers.
They condemned the Chinese policy of hunger genocide in East Turkestan in the garb of efforts to control the Covid pandemic. Nearly 6-7 Uyghur NGOs came together in a show of solidarity toward their brothers, local media reports said.
The videos and images published and circulated widely on social media and shared by Uyghur activists show Uyghurs who have been found dead due to hunger and disease in their homes where they were forcibly imprisoned. It also shows those who took their own lives as they could no longer withstand hunger and pain.
They even include young children who are starving or have died due to hunger or high fever but did not get access to food or medicine, local media reported.
Uyghur activists are accusing the Communist Party of China of now using this new way and pretext to exterminate the Uyghur race but so far no single foreign government or International organisations has done anything.
Reports also suggest that the Chinese censors have been ordered to flood social media with positive posts about the northwestern region of Xinjiang in an effort to muffle the barrage of complaints of food shortages in the region. To drown out the complaints, censors were told to "open a campaign of comment flooding", according to a leaked directive published by the China Digital Times.
Read the complete news here.
By Team TRC