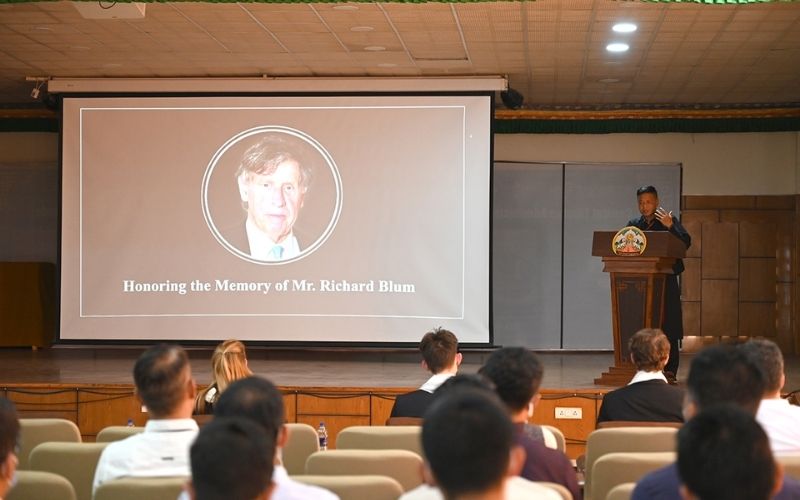 In the presence of daughter Heidi Blum, CTA pays tribute to late Richard Blum.
Dharamshala: The Central Tibetan Administration, led by Sikyong Penpa Tsering, held a brief memorial service today in the Sikyong hall to remember the late Richard Blum, a long-time friend of His Holiness the Dalai Lama and a steadfast supporter of the Tibetan people. Heidi Blum, Richard Blum's daughter, was in attendance during the event. The whole CTA team, as well as Kalon Tharlam Dolma and Kalon Gyari Dolma, were in attendance. Richard Blum died on February 27, 2022. Senator Diane Feinstein, one of the strongest supporters of the Tibetan people in the US Senate, was his wife.
Sikyong spoke on his personal interactions with Richard Blum as well as early meetings between His Holiness the Dalai Lama and Richard Blum in his opening remarks. Mr Blum's sympathy for Tibetan youngsters in settlements in the 1970s, as well as his continuous support for the Tibetan people since then, he recalled. Sikyong thanked him for his generosity and support on behalf of the Tibetan people.
According to reports, Sikyong also spoke briefly about US-Tibet relations, tracing its roots back to William Woodville Rockhill, the first American to visit Tibet in 1889 and 1891. He also mentioned the growing support for Tibet in the US Congress since His Holiness the Dalai Lama's first visit in 1979, as well as the support of key figures such as Speaker Nancy Pelosi and Senator Diane Feinstein.
Sikyong also expressed the Central Tibetan Administration's heartfelt condolences and urged Heidi Blum to carry on her father's tradition of assisting the Tibetan people.
Heidi Blum spoke briefly on her father's strong support for the Tibetan cause. She stated that she had spent her entire life supporting the cause of Tibet and committed to try her best to carry on her father's tradition of promoting the preservation of Tibetan culture, religion, and language. She also discussed Senator Diane Feinstein's support for the American Himalayan Foundation, which was formed by Richard Blum and is dedicated to working for Tibet.
(Informartion Supplied by Tibet.Net)
By Team TRC