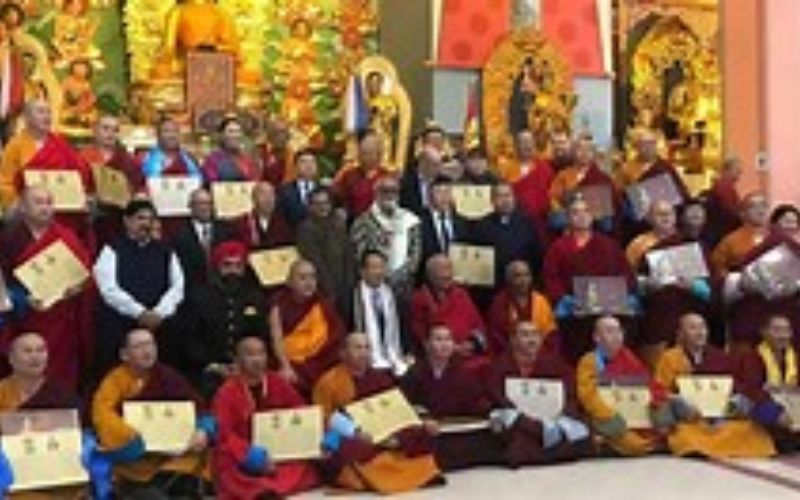 India restores the sacred writings of Mongolian Buddhism
Source: Economic Times
India has restored 108 volumes of sacred Mongolian Kanjur (Buddhist texts) and has sent them to 50 Buddhist monasteries and educational institutions. The sacred texts, Kanjur Buddhist canonical texts meaning concise orders or Buddha ke vachan (words of Lord Buddha) are an important part of Buddhism in Mongolia, worshipped in monasteries.
They have been republished by the Indira Gandhi National Center for the Arts and the National Mission for Manuscripts under the Ministry of Culture in a project that was approved at the end of 2019. Officials in know of the matter said the project was expedited after Covid-19 to meet the deadline. The effort was led by the culture ministry and is aimed at showcasing India's might as an authority on Buddhism.
To honour this feat, the governments of both countries recently hosted a ceremony at the famous Ganden Monastery of Mongolia in the presence of officials from both India and Mongolia that was attended by the Chief Buddhist Guru Nauan Khan Khambo Lama from Tibet and chief religious guru Ling Rinpoche in Mongolia, representatives of 50 institutions and over 500 Buddhist monks. Prominent Buddhist Guru Nomen Khan of Mongolia said the people of Mongolia would remain indebted to India for this for "restoring their heritage."
A geographically critical country for India, Mongolia sandwiched between China and Russia has often walked the tightrope with China on one side and spiritual master Dalai Lama on the other.
H.E. Ling Rinpoche was invited by the Indian Government to preside over a historic occasion in Mongolia, where 50 sets of the Mongolian Kanjur were presented to the Mongolian people.
"H.E. Ling Rinpoche gave the White Tara long life initiation at Ganden Monastery. On 13 Oct, Rinpoche gave the Palden Lhamo initiation and a commentary on the Praises to Manjushri, at the request of Ganden Monastery in Mongolia", tweeted in his Twitter handle.
Experts said Sino-Indian geopolitical rivalry over Buddhist legacy is not new but with China's growing aggression, East Asia is particularly significant to India, experts said, which is why both India and China have been making strides in this direction. "We have ensured that the restored Kanjurs reach each of the 21 provinces of Mongolia. We have also looked at ways to have an official Sanskrit- Mongolian and Mongolian -Sanskrit dictionaries to help them know more about the origins of Buddhism. Most of the translations are in Tibetan script and there is a need to have direct access to the manuscripts," Jha said.
Edited & Collated by Team TRC