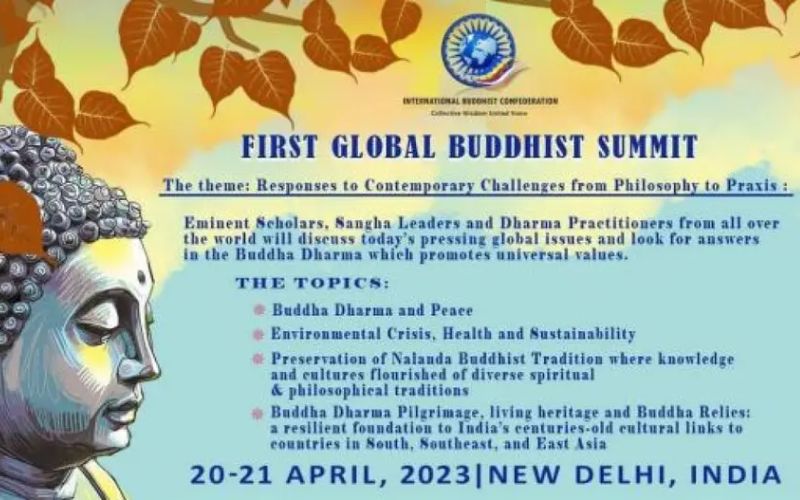 India to Host First-Ever Global Buddhist Summit to Address Contemporary Challenges through Buddhist Philosophy and Practice
India is set to host the first-ever Global Buddhist Summit in New Delhi, aimed at addressing contemporary global challenges through the lens of Buddhist philosophy and practice. The International Buddhist Confederation (IBC), a part of India's Ministry of Culture, will organize the summit on April 20 and 21 at the Ashok Hotel, under the theme "Responses to Contemporary Challenges from Philosophy to Praxis."
The conference will bring together prominent scholars, Sangha leaders, and Dharma practitioners from across the globe to discuss pressing global issues, including peace, environmental sustainability, health, preservation of Nalanda Buddhist tradition, and the significance of Buddha Dharma pilgrimage and Buddha relics as a foundation for India's cultural ties to countries in South, Southeast, and East Asia.
The summit's primary objective is to create a forum for lay Buddhist scholars and Dharma Masters to delve into the teachings of Buddha and work towards universal peace and harmony by applying the core values of Dharma.
The summit's discussions will revolve around four themes, including Buddha Dharma and Peace, Environmental Crisis, Health and Sustainability, Preservation of Nalanda Buddhist Tradition, and Buddha Dharma Pilgrimage. The summit's aim is to explore how Buddha Dharma's core values can provide guidance and inspiration in today's world grappling with rapid technological advancements, consumerism, and environmental degradation.
The summit also seeks to establish a resilient foundation for India's centuries-old cultural ties to South, Southeast, and East Asian countries. The organisers hope to produce a document for academic research that can serve as a tool for international relations.
The GBS-2023 is a crucial event that seeks to address some of the most pressing global issues through the lens of Buddhist philosophy and practice, providing an opportunity for scholars, practitioners, and leaders to identify solutions grounded in universal values of peace, compassion, and harmony.
His Eminence 7th Naro Banchen Rinpoche and delegates briefed about Global Buddhist Summit (GBS) 2023 by Shartse Khensur Jangchup Choeden Rinpoche, Deputy Secretary General, IBC.
In another event, the Mongolian Embassy jointly organized an Indian and Mongolian cultural event with the Naropa Institute and IBC. The event was attended by Mongolian monks, businessmen, artists, media personnel, and IBC officials who interacted with each other. At the event, Mongolia's famous monk Naro Banchen Khutagt San was also present. He is believed to be the reincarnation of Naropa, an Indian Buddhist.
During the event, the Mongolian monk Naro Banchen Khutagt San gave a scroll with a picture of the Dalai Lama to an Indian monk as a gesture of goodwill and respect between the two countries. The event showcased the shared cultural heritage and spiritual connections between India and Mongolia.
The interaction between the delegates and officials of the IBC and the Mongolian community highlighted the importance of cross-cultural exchange and collaboration in promoting peace and harmony. It also emphasized the relevance of Buddhist teachings in modern times and the need to preserve and promote the cultural heritage of both India and Mongolia.
Edited and collated by Team TRC