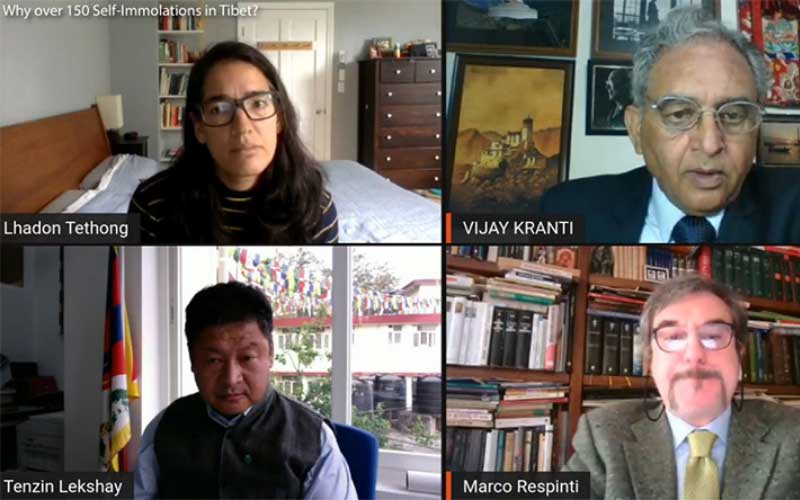 International indifference to spate of self-immolations in Tibet exposes world community's hypocrisy: Experts
New Delhi: Experts, belonging to Italy, Canada, India, and Tibet shared their views in an international webinar titled "Why over 150 Self-Immolations in Tibet" which was organised jointly by the Centre for Himalayan Asia Studies and Engagement (CHASE) of New Delhi and Tibetan Youth Congress (TYC) on April 9, 2022. In the event moderated by Vijay Kranti, a Tibetologist of international repute and Chairman, CHASE, the experts were unanimous in their observation that the process of eliminating Tibetan identity and replacing it with the Communist Chinese identity is dangerous and inhuman and calls for urgent attention of the world community.
"The Chinese administrators of Tibet under the leadership of President Xi have imposed such strong restrictions on Tibetan people's movements and freedom of expression that self-immolation by individuals has become the only possible way of expressing their opposition to the Chinese rule," observed Mr Marco Respinti, a well-known China watcher from Milano, Italy, and Director-in-charge of 'Better Winter'.
"If such youths commit self-immolation and call for a 'Free Tibet' and return of Dalai Lama to Tibet in the last moments of their life when their body is on fire, then it clearly indicates the level of frustration and opposition among Tibetan masses against the Chinese rule in Tibet", observed Tenzin Lekshay, the spokesperson of the Central Tibetan Administration (CTA).
"Before Xi took power, an average of 2200 Tibetans used to manage to escape from Tibet via Nepal every year. But with current levels of surveillance and restrictions imposed by Xi, only five Tibetans could manage to escape in the past two years. This suffocation is forcing the ordinary Tibetans to extreme and desperate steps like self-immolation," said Ms Lhadon Tethong, a Canadian citizen of Tibetan origin and Director of Tibet Action Institute.
By Team TRC
(Information supplied by Vijay Kranti and The Tibet Post)