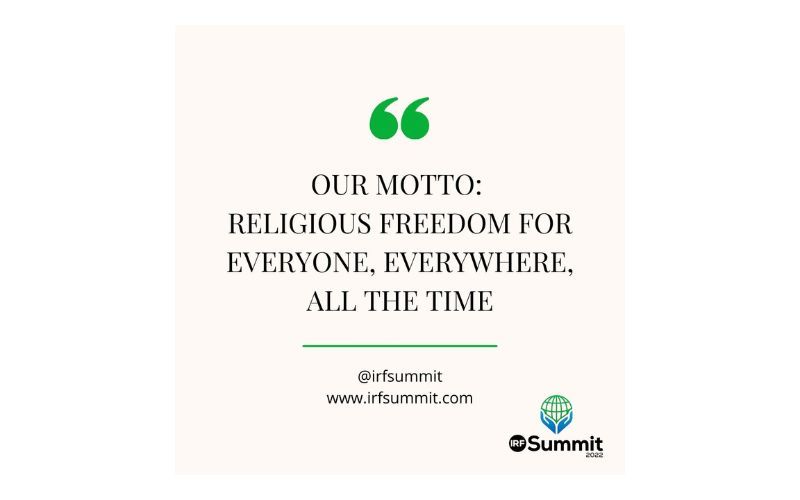 International Religious Freedom Summit begins today
Washington, DC: The International Religious Forum Summit 2022 will bring together international religious freedom leaders, advocates from around the world, and a diverse coalition that passionately supports religious freedom around the globe. The IRF Summit 2022 will begin 28 to 30 June, 2022. The IRF Summit 2022 motto is: Religious freedom for EVERYONE, EVERYWHERE, ALL THE TIME.
The IRF Summit highlighting individual stories and hosting special summit activities, the campaign seeks to raise awareness about violations around the world of the right to religious freedom and advocate for those who are unjustly imprisoned for their beliefs, practices and advocacy.
The full schedule of campaign events is available here.
The Summit is convened by Brownback and Dr. Katrina Lantos Swett, president of the Lantos Foundation for Human Rights and Justice. It is supported by more than 40 diverse partners and aims to bring greater attention to religious freedom violations and to create a powerful coalition of groups to advance the cause of religious freedom around the world.
A full list of speakers is available here.
International Religious Freedom Summit 2022 is a powerful, broad coalition of religious, human rights and civil society groups that advocate for religious freedom for all people, everywhere at all times.
More information on the International Religious Freedom Summit 2022 is available here.
By Team TRC