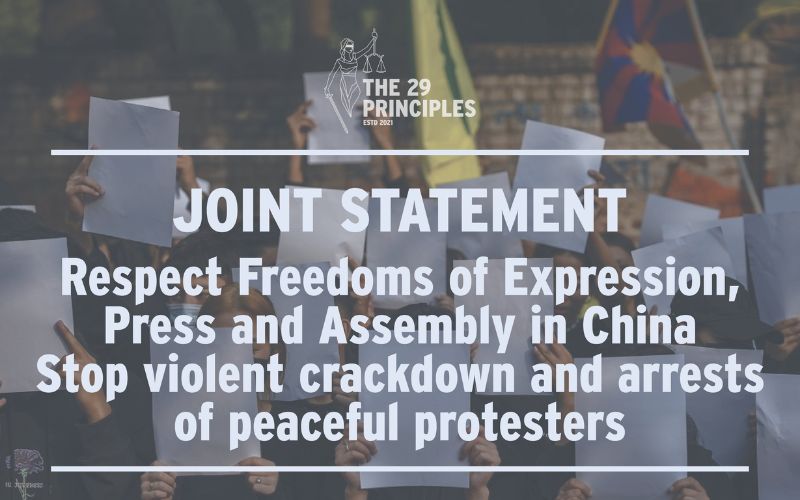 Joint statement of 49 human rights groups calls on the Chinese authorities to respect fundamental freedoms
Source: 29 Principles
49 human rights organisations have signed the joint statement which demand that the Chinese government strictly adhere to its obligations under the Chinese Constitution, the United Nations Convention against Torture and Other Cruel, Inhuman, or Degrading Treatment or Punishment, and its commitment as a signatory to the International Covenant on Civil and Political Rights.
Rights groups also demand that the Chinese government respect the fundamental rights of the Chinese people to their privacy, freedom of expression, press, association, and peaceful assembly.
"The Chinese government should cease abusing the criminal code to detain peaceful protesters, harassing those who defend protesters' rights, and immediately halt, investigate and prosecute any use of violence or extrajudicial measures by authorities against those who exercise their basic human rights and freedoms", stated the joint statement.
Several Chinese cities have seen the spread of peaceful rallies and protests over the past week in response to the mourning of the Urumqi fire victims. To express their dissatisfaction with the severe lockdowns imposed by the zero-COVID policy, people took to the streets.
Some people held white sheets of paper and pleaded for their fundamental freedoms and human rights or expressed dissatisfaction with the government. This arrangement of fights is an illustration of individuals facing the harsh rule of a dictator system.
At the same time, Chinese authorities are cracking down on protesters all over the country. Some of those arrested have since vanished, and it is feared that they were forced to leave the country.
Groups also learned that the protesters' right to legal representation is being harmed by the authorities. Local authorities have cautioned some lawyers not to take on the cases, and others have had their mobile phone calls suddenly cut off.
Citizens have also been stopped by police on the street, inspected, and compelled to delete protest-related apps, content, and photos from their smartphones. Human rights groups are extremely concerned about the potential scope and gravity of the situation as a result of the absence of official information that is trustworthy and transparent.
Rights groups appeal to the international community to keep an eye on the situation and to denounce the ongoing violations of human rights brought on by the crackdown.
The groups emphasize that the freedom of speech, press, assembly, association, procession, and demonstration is protected by Article 35 of the People's Republic of China Constitution; Citizens' rights to correspondence privacy and non-interference are safeguarded by Article 40.
Additionally, citizens are entitled to express their opinions and criticism of any state employee or agency in accordance with Article 41. The basic rights of both suspects and defendants in the criminal process that are guaranteed by China's Criminal Procedure Law include, but are not limited to, the right to timely notification of family members, the right to be represented by lawyers, and the right to a fair trial.
Read the complete statement here.
Edited & Collated by Team TRC