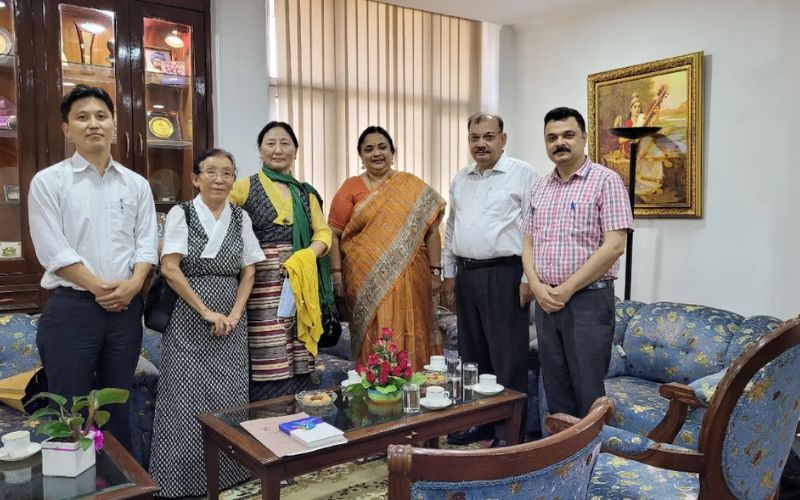 Kalon and Secretary of Education meet with JNU's Vice Chancellor and administrators.
Dharamshala: On April 28, Vice-Chancellor Prof. Santishree D Pandit of Jawaharlal Nehru University (JNU) met with Kalon Tharlam Dolma Changra and Secretary Jigmey Namgyal of the Education Department, CTA.
During their meeting with the Vice-Chancellor, the two discussed the difficulties faced by Tibetan students at JNU following the fee hike, as well as informing administrators about Tibetan graduates working at various organisations, including JNU, CTA departments, and organisations in other countries.
Education Kalon went on to say that the Tibetan students at JNU are mostly third and fourth generation Tibetans in India who received their education in CBSE-accredited Tibetan schools. As a result, Tibetan students' financial circumstances are not comparable to those of other overseas students, and they have asked university leaders to appreciate their plight.
In addition, on April 27, Education Kalon and Secretary, as well as the director of Sambhota schools, paid a visit to Commissioner Nidhi Pandey, IIS of Kendriya Vidyalaya Sangathan (KVS), and her colleagues to address the acquisition of funding for Tibetan schools previously covered by CTSA. They also discussed the possibility of forming an agreement between the two institutions.
Through the Department of Education, CTA, the Ministry of Education, GOI, had handed over Tibetan schools managed by the Central Tibetan Schools Administration (CTSA) to Sambhota Tibetan Schools Society (STSS). KVS was founded in 1963, and there are currently 1,245 KVS schools in India.
(Information Supplied by Tibet.net)
By Team TRC