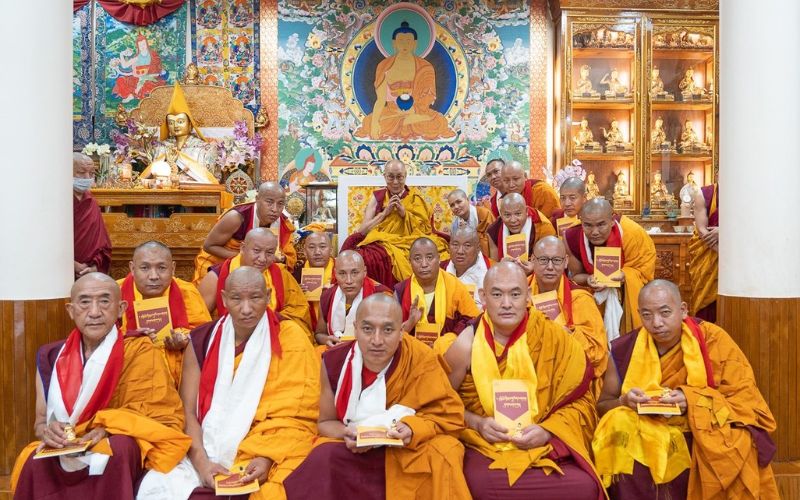 Mahakala Puja and Gelong Ordination are both attended by the H.H Dalai Lama.
Dharamshala: The Dalai Lama attended Mahakala Puja and Gelong Ordination (completely ordained monk vows) at the main temple and his house, respectively, early this morning.
In Tibetan Buddhism, Gelong ordination entails adopting vows that have not yet been taken, as well as augmenting the regeneration of vows to keep them from degenerating. Monks who are ordained must study and observe Vinaya rigorously. They also take part in the bi-monthly confession and restoration ceremony, as well as other activities.
"You must feel fortunate for this important opportunity to devote your service to the Dharma by becoming an ordained Gelong," His Holiness spoke to the assembled ordained monks. Buddha, a renowned prince, was living a lavish life before his great renunciation, yet he rejected the world of luxury to live an ascetic life in the service of all sentient beings."
Around 630 Tibetan and non-Tibetan monks from Drepung, Gaden, Sera, and other monasteries in India, as well as monks from the United States and Belgium, attended. His Holiness will ordain Spain, Germany, Ireland, France, Australia, Vietnam, Nepal, Russia, and Mongolia this week and next.
His Holiness paid a visit to the main temple to participate in the Mahakala puja, a practise that entails removing barriers through recitations and the formation of a sand mandala, among other things.
(Information Supplied by Tibet.Net)
By Team TRC