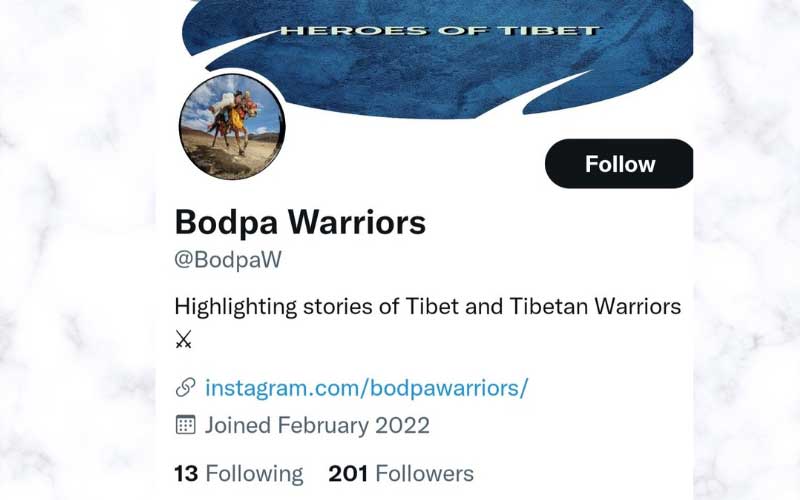 Meet Bodpa Warriors: A Twitter handle that shines spotlight on Tibetan History
Dharamshala: With its interesting set of posts about stories from Tibet with a focus on Tibetan history, Tibetan warriors and army, a twitter page is quickly gaining popularity among netizens. Calling themselves Bodpa (which means a Tibetan person in Tibetan) Warriors, this group has sought to highlight the contributions of Tibetan freedom fighters in the history of Tibetan resistance struggle.
Since its inception in February 2022, the twitter page has shared rare pictures, some sourced from inside Tibet, of Tibetan warriors, especially Khampa warriors. Since the very start, the Khampa warriors have been an integral part of Tibetan Army and have been protecting His Holiness Dalai Lama even at the cost of their lives. For a Khampa, "life is always dedicated to his land and he is expected to fight till the last drop of his blood".
Some of the most popular posts include those about Drapchi Regiment which was sent to welcome the U.S. army officials, Captain Brooke Dolan and Major Ilya Tolstoy, when they arrived in Lhasa, Simpa regiment, known as the "Exterior and Interior Guards of the Dalai Lama's Palace" and Yasö Generals who were the commanders of an ancient Tibetan Militia whose elaborate dress could be so heavy that they could not stand up.
China is attempting to Sinicize the culture, history, language and tradition of Tibet, which it unlawfully invaded in 1959. 159 Tibetans have self-immolated themselves so far, as a protest against Chinese policies in their homeland. Under such circumstances, team Bodpa Warriors is doing a commendable work in helping spread awareness about the history of Tibet before Chinese intrusion among the global audience. This will prove helpful to de-legitimate Chinese claims that Tibet was a part of China throughout the course of history.
Check their tweets here.
By Team TRC
(Information supplied by Twitter)