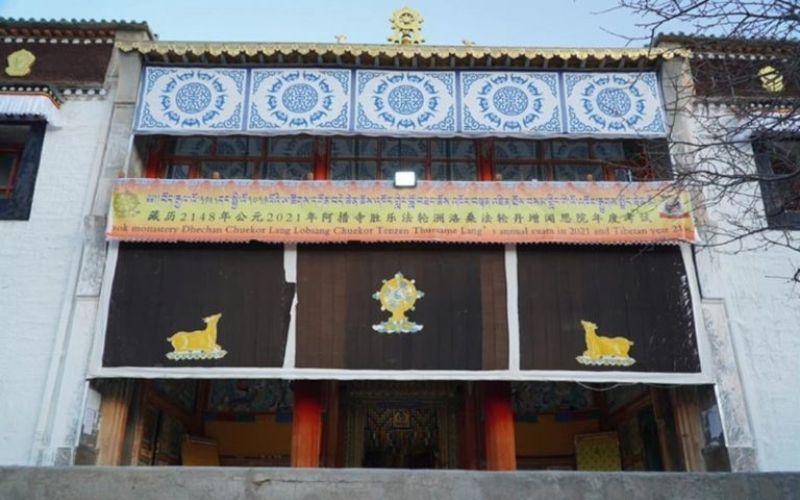 Monastery forced to relocate to make way for hydropower station: Report
Lhasa: Chinese authorities in Amdo, eastern Tibet are planning to relocate a 19th century Tibetan monastery against the wishes of its resident monks and local Tibetans. The monastery, located in Drakkar County in Amdo, will make way for a hydropower station to be constructed on the nearby River Machu, also known as the Yellow River.
Named after the founder Atsok Choktrul Kunchok Choedar, the monastery is known as Atsok Gon Dechen Choekhor Ling. It was established in 1889 but enrollment of monks below the age of 18 – a tradition widely practised in Tibet prior to its invasion – was put to end in 2021 by the Chinese government. The monastery currently provides accommodation and education in Buddhism for over 157 monks.
The relocation of Atsok Monastery is part of a hydropower construction project that was approved on 29 November 2021 by the National Development and Reform Commission (NDRC), a top Ministerial level department which implements the Communist Party of China Central Committee's policies and decisions on development and reform. Following the approval, the main responsibility of construction was handed over to Electricity Engineering Construction Company of the Yellow River, or Machu Kungsi, which began site planning from around 26 December 2021.
According to the same document, land acquisition of a total land area of ​​80,691 mu (approximately 53 square kilometers) is planned, spanning across 22 villages in three counties – including Drakkar – and is expected to affect 15,555 people.
A source with knowledge about the relocation process told Tibet Watch that local Tibetans are feeling helpless against the state's project. Engineers of the project and committee for the relocation of the monastery have been visiting the monastery and telling the monks to cooperate.
While the exact date for the relocation has not yet been announced, attempts by Atsok Monastery's monks to appeal the concerned authorities for a review of the relocation has neither been acknowledged nor addressed. The official plan is to relocate them to a mountain area called Khyokar Naglo, which is three to four kilometers from Palkha Township.
More details here.
Information supplied by Free Tibet
By Team TRC