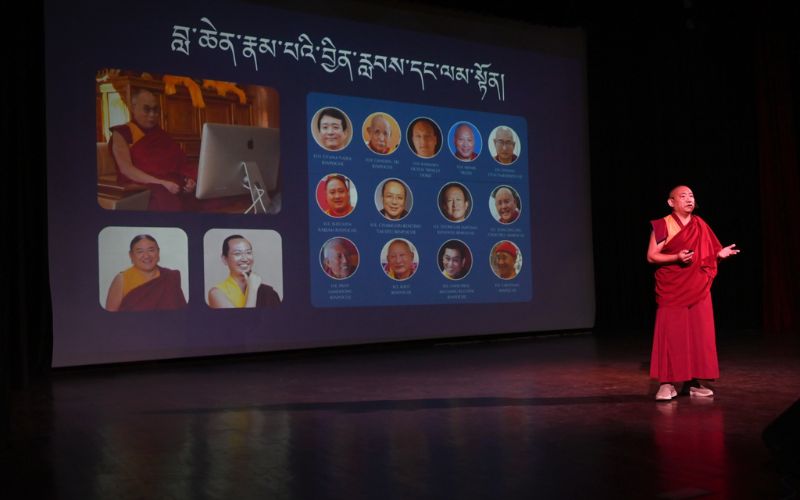 Monlam Tibetan IT Research Centre Unveils Pioneering AI Tool, A Historic Moment in Education Software Development
Monlam Tibetan IT Research Centre, a notable education software developer, marked a historic moment by unveiling its pioneering Monlam Artificial Intelligence (AI) tool at the Tibetan Institute of Performing Arts.
The launch event witnessed the presence of distinguished guests, including Sikyong Penpa Tsering, Speaker Khenpo Sonam Tenphel, and other prominent figures from the Tibetan community.
Monlam IT Research Centre had the honor of presenting the final prototype of the Monlam AI software to His Holiness the Dalai Lama, setting the stage for an evening of innovation and collaboration in the field of artificial intelligence.
The event, which was graced by Sikyong Penpa Tsering and Speaker Khenpo Sonam Tenphel, also saw the attendance of sponsors, advisors of the Monlam team, Kalon Norzin Dolma from the Department of Information and International Relations, Standing Committee members of the 17th Tibetan Parliament in Exile, Secretaries of Gaden Phodrang, Secretaries of Central Tibetan Administration, and a delegation from the International Campaign for Tibet, who were visiting Dharamshala. Additionally, representatives from Tibetan NGOs and senior officials from the Central Tibetan Administration (CTA) added to the gathering's significance.
Geshe Lobsang Monlam, the visionary founder and CEO of the Monlam Tibetan IT Research Centre, delivered an opening speech to set the tone for the event. His remarks highlighted the importance of Monlam AI in the context of the ever-expanding world of artificial intelligence, which has garnered substantial global attention.
Monlam AI, the first Tibetan AI tool of its kind, offers users access to four primary machine learning models. These models encompass the Machine Translation Model, Optical Character Recognition Model, Speech-to-Text Model, and Text-to-Speech Model. These functionalities are poised to have a substantial impact on the Tibetan community, empowering individuals with cutting-edge tools for language translation, text recognition, and voice-based interactions.
The launch of Monlam AI represents a significant step forward for the Tibetan community, as it embraces modern technology to preserve its cultural heritage and facilitate communication in the digital age. With the support of prominent leaders like Sikyong Penpa Tsering and Speaker Khenpo Sonam Tenphel, the Monlam AI tool holds the promise of making valuable contributions to the Tibetan diaspora and beyond.
Edited and collated by Team TRC