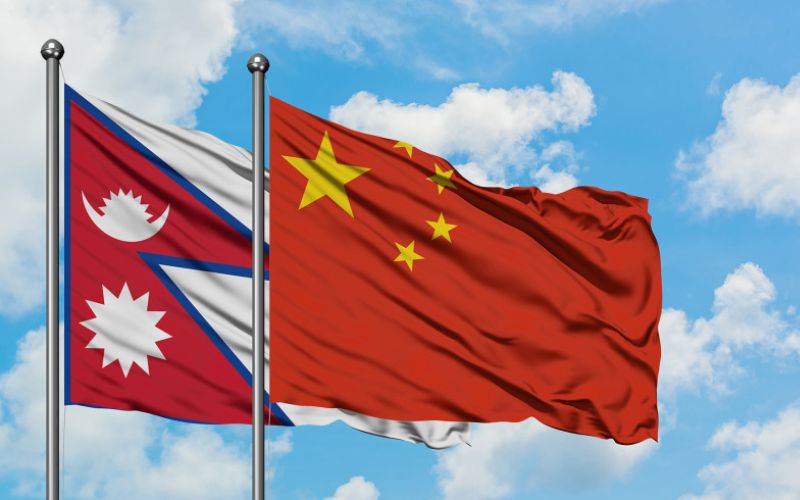 Nepal and China to hold talks on resuming bilateral trade in Lhasa meeting
Nepal and China are set to hold a two-day meeting in the capital of occupied Tibet, Lhasa, to discuss issues related to bilateral trade and commerce. The meeting is the first under the joint mechanism established in August last year to facilitate pandemic control in border ports.
The agenda includes talks on trade, commerce, border infrastructure, trade facilitation, and exports of Nepali goods to China. The primary focus of the meeting is to resume bilateral trade, which has been obstructed for years due to China's strict zero-Covid policy.Nepali traders and importers have been facing hassles due to poor infrastructure on the Nepal side of border points, which China aims to address through discussions at the meeting.
Madhu Marasini, who is the secretary at the ministry, and Chen Yongqi, who serves as the executive vice-chairman of the Tibet autonomous regional government and the Deputy Secretary of the District Party Committee, will head the delegations from Nepal and China, respectively, during the two-day meeting in Lhasa on March 29-30.
Officials from the Ministry of Foreign Affairs and the Ministry of Industry, Commerce and Supplies will also attend the meeting. Due to China's strict zero-Covid policy, Nepal's bilateral trade has been primarily taking place through the Tatopani-Zhangmu and Rasuwagadhi-Kerung border points, but this policy was lifted a few months ago.
China is Nepal's second-largest trading partner after India, but the bilateral trade to the north has become largely one-sided for the past couple of years. In the year 2021, Nepal imported goods worth Rs235 billion from China, while its export to China was just US $8.41 million.
In recent years, the Nepalese government has been imposing various restrictions on Tibetans living in Nepal due to its close ties with China. These restrictions have been hindering the Tibetans' rights and opportunities in Nepal.
One of the major issues faced by Tibetans in Nepal is the lack of citizenship. Despite residing in Nepal for many years, Tibetans are not recognized as Nepalese citizens, which means they are not entitled to the same rights and privileges as Nepalese citizens.
Moreover, Tibetans are not allowed to travel freely within Nepal and require special permits to travel to different parts of the country. Obtaining these permits can be a difficult process, causing restrictions to their movement.
Tibetans are also prohibited from engaging in any political activities, including protests and demonstrations. Any such activity can lead to arrest and deportation. Additionally, Tibetans are limited to certain types of jobs and excluded from some professions, which results in limited employment opportunities.
Furthermore, censorship is imposed on Tibetan publications and websites in Nepal, and Tibetan cultural events and festivals are monitored, causing a further restriction on Tibetans' freedom of expression.
These restrictions are primarily aimed at maintaining a cordial relationship between Nepal and China, leading to challenges for the Tibetan community in Nepal in terms of economic opportunities and social integration. This has caused much distress and dissatisfaction among Tibetans living in Nepal.
Edited and collated by Team TRC