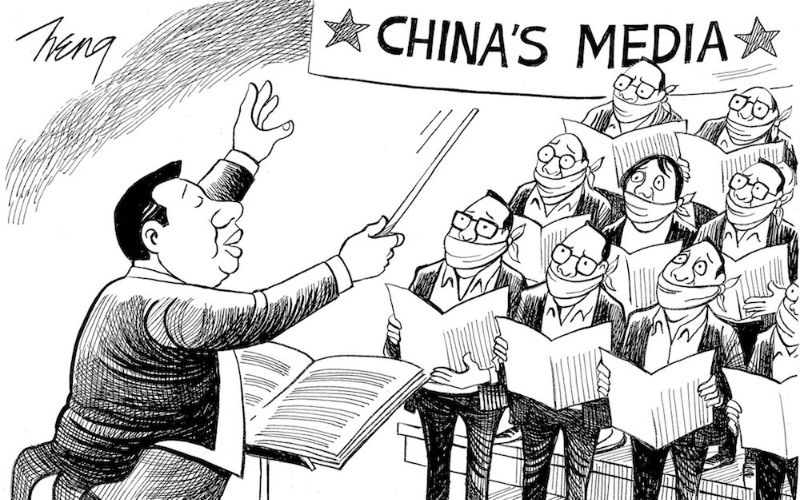 New Smartphone Service Aims to Indoctrinate Journalists and Ensure Loyalty to CCP`s Propaganda, Says RSF
Reporters Without Borders (RSF) has raised alarm over a recent threat to press freedom in China as the All-China Journalists Association (ACJA), an organization under the Chinese Communist Party's (CCP) control, introduced a smartphone service designed to conform journalists to the regime's propaganda. Launched on the WeChat platform on June 30, the service's primary objective is to "train" and evaluate media professionals on the CCP's narrative, while also ensuring their loyalty to Chinese leader Xi Jinping.
Offering more than 220 courses, the smartphone service seeks to indoctrinate journalists with the "Marxist vision of journalism," aligning with the CCP's media doctrine to control the narrative disseminated by the press. A significant aspect of the service is its focus on aiding journalists in passing the loyalty exam to Xi Jinping, which has been a prerequisite for obtaining or renewing press credentials since 2019. The service closely monitors users' progress and can issue training certifications, which media outlets might employ during journalists' annual evaluations.
Expressing profound concern, Cédric Alviani, RSF's East Asia Bureau Director, labeled the smartphone service as yet another tool in the Chinese regime's crusade against press freedom and the right to information. He urged the international community to exert pressure on China to cease its repressive policies and restore press freedom, a constitutional right.
The use of technology to control media and journalists is not new in China. In 2019, the government launched the "Study Xi, strengthen the Country" propaganda app, initially aimed at the general public but later utilized to test journalists' loyalty and knowledge of the regime's narrative.
Since Xi Jinping assumed power in 2012, Chinese state media has faced tighter control, with an expectation to align with the Party's will. Independent journalists have faced severe clampdowns, while online censorship and surveillance have surged, as highlighted in RSF's report "The Great Leap Backwards of Journalism in China."
In response to the escalating challenges faced by journalists covering China, RSF launched the training.rsf.org website in 2021. The platform offers training on physical safety, digital security, mental health, and reporting best practices, benefiting over 500 journalists to date.
China's press freedom situation remains grim, ranking 179th out of 180 countries in the 2023 RSF World Press Freedom Index. The country has earned the reputation of being the world's largest captor of journalists and press freedom defenders, adding to concerns over the safety and freedom of journalists operating within its borders.
The introduction of the new smartphone service exacerbates the critical state of press freedom in China, calling for urgent action from the international community to safeguard the right to information and uphold journalistic independence.
Edited and collated by Team TRC