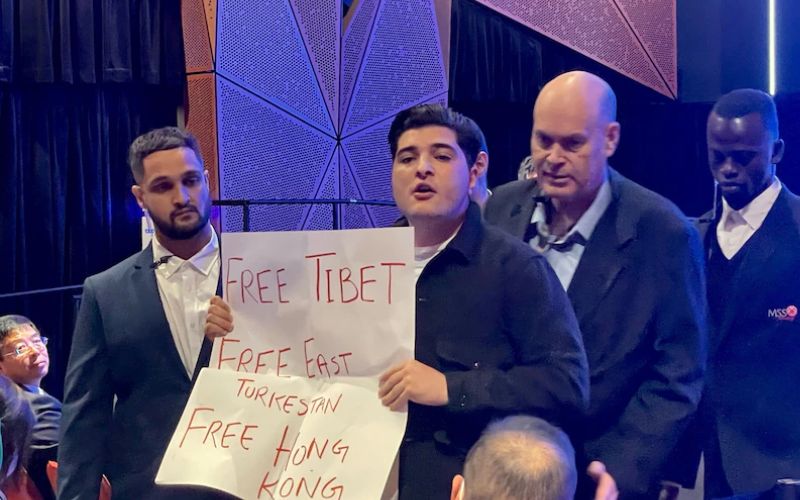 'No platform for the CCP's genocidal crimes' - Activists interrupt Chinese Ambassador's speech in UTS Sydney
Sydney : Minutes into an address at the Australia-China Relations Institute at the University of Technology Sydney, Chinese Ambassador to Australia Mr Xiao Qian was interrupted by protesters on Friday, who called out the Chinese government of committing genocide against the Uyghur Muslims in Xinjiang. Human rights activist and head of the Democratic Alliance political party, Drew Pavlou was removed from the event, after holding up a sign which read "Free Tibet". Tibetan activist and the first Tibetan-Australian to run for Parliament, Kyinzom Dhongue was also among the protestors who interrupted the speech and registered protest against the regime committing atrocious genocide and crimes against humanity.
"Interrupting the Chinese Ambassador's speech in Sydney to speak up for human rights in China. No platform for the CCP's genocidal crimes - shame on University Technology Sydney", tweeted Drew Pavlou after the incident.
"Australia & #China can't "reset" relationship whist Chinese Govt continues gross human rights abuses. We'll resist. We'll fight until Tibetans & Uyghurs are free from China's occupation of our homelands. Today's disruption will be the first of many for new Chinese Ambassador", tweeted Kyinzom Dhongue.
The Ambassador's speech was widely seen as an attempt to thaw frosty relations between the two countries, in the wake of trade sanctions and a recent "dangerous" encounter between a Chinese fighter jet and Australian maritime surveillance aircraft over the South China Sea.
ABC News reported that One woman shouted "It's committing genocide in Tibet" as she was ushered out by a staff member who said "Madam, could you please leave the room now". The woman held a sign reading "Free Tibet, free East Turkestan, free Hong Kong!"
By Team TRC