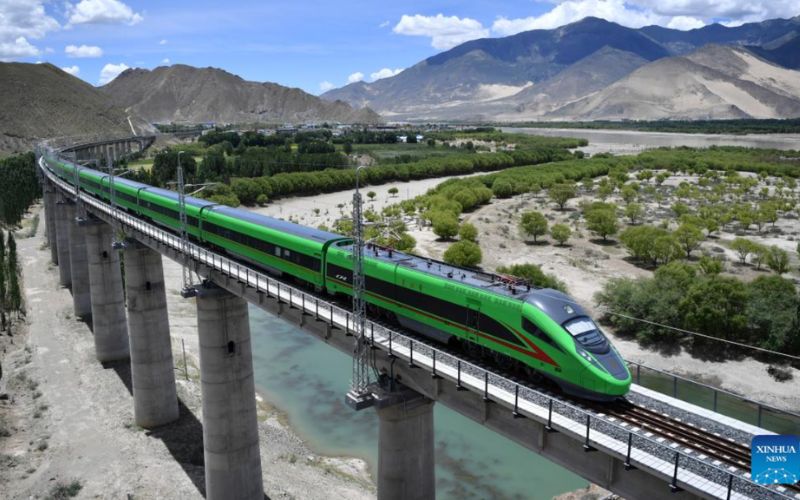 One year of Lhasa-Nyingchi railway: Dual-use infrastructure posing threats to Tibet
Lhasa : According to reports, China has marked one year of Lhasa-Nyingchi railway on June 25, 2022; however, contrary to Chinese claims of the railway bringing "prosperity "to Tibet, the railway is posing threats to the Tibetans within Tibet.
According to China,the Lhasa-Nyingchi railway provided southeast Tibet with access to railway services for the first time in history. The report added that with a designed speed of 160 km per hour, the 435-km railway marked the launch of the country's first electrified railroad operating in the plateau region and as of May 31, this year, the train service had 1.03 million passenger trips and transported 36,900 tons of cargo.
Dual use infrastructure refers to infrastructure used for both civilian and military purposes. Within its western regions of Tibet and Xinjiang, China is constructing and upgrading dozens of airports and heliports—a large majority of which are military or dual-use facilities. According to a Jamestown Issue Brief, under President Xi Jinping, China has continued building a vast network of infrastructure projects like roads, railroads and airports in Tibet – all with dual-use capabilities. The combination of the dual-use civilian infrastructure development and the recent military modernization has helped China to gain an operational advantage along the border with India.
Though China claims that the construction of railway in Tibet will boost border stability and logistical supplies, in reality, China is planning to increase border forces and equipments to tackle neighboring countries. Ever since LAC standoff, China has shown keen interest in Tibet.
It should also be noted that concerns that China's construction of Lhasa-Nyingchi railway line and related infrastructure connecting Chinese lands to Tibet will help bring more Han Chinese native people to the Tibetan capital Lhasa, thus reducing Tibetan natives to a minority in their own homeland.
By Team TRC