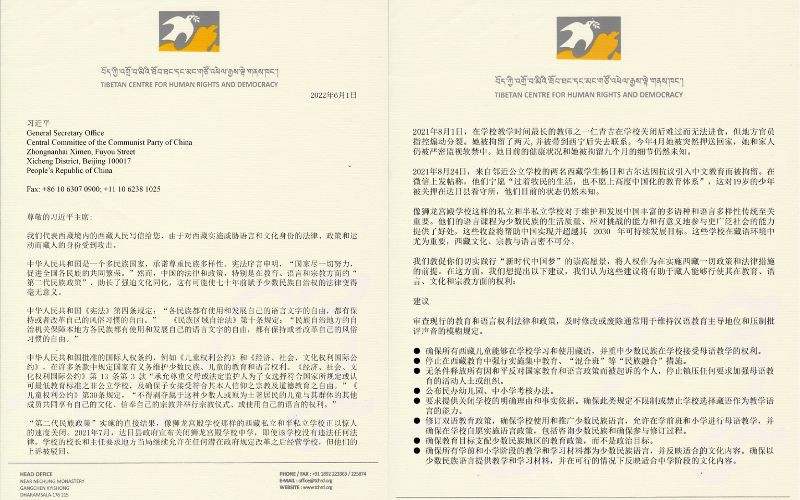 Open Letter to Xi Jinping by TCHRD to End Forced Cultural Assimilation Policy in Tibet
Dharamshala: In an open letter to President Xi Jinping on China's 'Children's Day' on 1 June, TCHRD called for an end to the forced cultural assimilation policy being aggressively implemented under the guise of "Second Generation Ethnic Policy" in Tibet.
The Tibetan Centre for Human Rights and Democracy (TCHRD) wrote the letter on behalf of Tibetan people inside Tibet whose identity is now under attack due to the implementation of laws, policies and campaigns that threaten the survival of the Tibetan linguistic and cultural identity.
"The People's Republic of China was founded as a multiethnic state and promises to respect ethnic diversity. The preamble of the Constitution affirms that the state makes every effort to promote the prosperity of all ethnic groups", said TCHRD.
"However, the PRC's laws and policies, especially on education, language and religion, such as the "Second Generation Ethnic Policy", have contributed to forced cultural assimilation, which threatens to nullify seven decades of laws granting autonomous powers to minority nationalities in self-governance", noted TCHRD.
On 24 August 2021, Guldrak and Yangrik – two Tibetan students from a neighboring state-run school were detained for protesting the introduction of Chinese-medium education. After posting to WeChat that they would prefer to "live as herders than to attend school with a highly Sinicized education system," the 19-year-olds were held at the Dari County detention Centre. Their current status and condition remain unknown.
TCHRD urged Xi Jinping to truly live up to his lofty vision of achieving the 'Chinese Dream in the new era' by making respect for human rights a precondition for all policy and legal measures implemented in Tibet.
Read the complete letter here.
(Information supplied by TCHRD)
By Team TRC