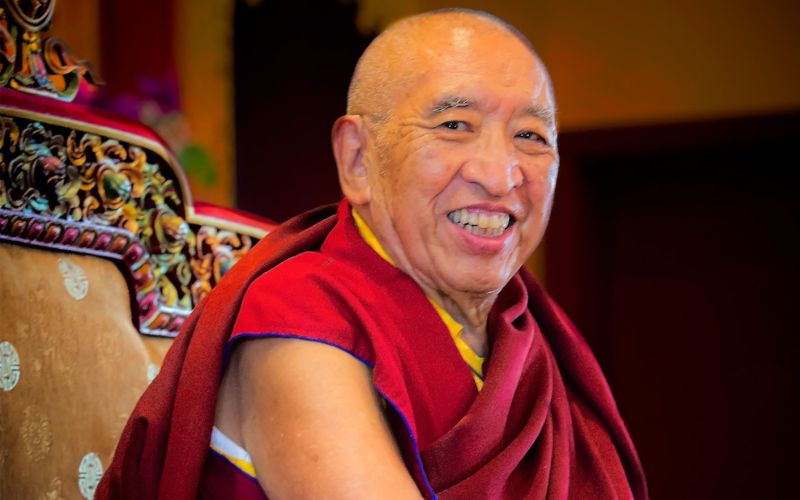 Prominent Karma Kagyu Teacher, Khenchen Thrangu Rinpoche, Passes Away at 91
Khenchen Thrangu Rinpoche, a highly respected and influential teacher of the Karma Kagyu School of Tibetan Buddhism, has passed away at the age of 91. His demise marks a significant loss for the Buddhist community and followers of the Karma Kagyu lineage.
The news of his passing was officially announced by Thrangu Monastery in Namo Buddha, Nepal. In a statement released by the monastery, it was revealed that Rinpoche chose to conclude his earthly journey on June 4, coinciding with Saga Dawa, a sacred day commemorating the Buddha Shakyamuni's entry into parinirvana. The Gyalwang Karmapa, the spiritual head of the Karma Kagyu tradition, had advised keeping the news confidential for a period of four days to ensure a peaceful environment for Rinpoche's transition.
Born in Kham, Tibet, in 1933, Thrangu Rinpoche was recognized as a tulku (reincarnate lama) at the tender age of five by the Sixteenth Karmapa and the previous Tai Situpa. Throughout his life, he demonstrated exceptional scholarly abilities, earning the esteemed titles of Geshe in the Gelug tradition and Khenchen in the Kagyu tradition. Rinpoche's profound knowledge and insight led him to write over 60 books on Buddhist subjects, elucidating essential texts within the Kagyu tradition.
Rinpoche played a crucial role in upholding the Kagyu lineage while in exile, serving as the abbot of Rumtek, the Karmapa's monastery in exile. His exemplary devotion and wisdom caught the attention of His Holiness the Dalai Lama, who appointed him as the tutor to the 17th Karmapa. Thrangu Rinpoche's contributions extended beyond spiritual guidance as he recognized and trained the next generation of Kagyu lamas, including the esteemed disciples of the 16th Karmapa, famously known as "The Four Heart-Sons": Shamar Rinpoche, Situ Rinpoche, Jamgon Kongtrul Rinpoche, and Gyaltsab Rinpoche.
The legacy of Khenchen Thrangu Rinpoche can also be seen in the numerous monasteries, schools, and dharma centers he established worldwide. Notably, he founded Tara Abbey in Nepal, which offers comprehensive education to Tibetan nuns, culminating in the attainment of a Khenmo degree.
The passing of Khenchen Thrangu Rinpoche leaves a significant void in the Karma Kagyu tradition and the broader Buddhist community. His teachings, writings, and tireless efforts to preserve the lineage will continue to inspire and guide countless practitioners on the path to enlightenment. Rinpoche's profound impact on Tibetan Buddhism will be remembered and cherished for generations to come.
Edited and collated by Team TRC