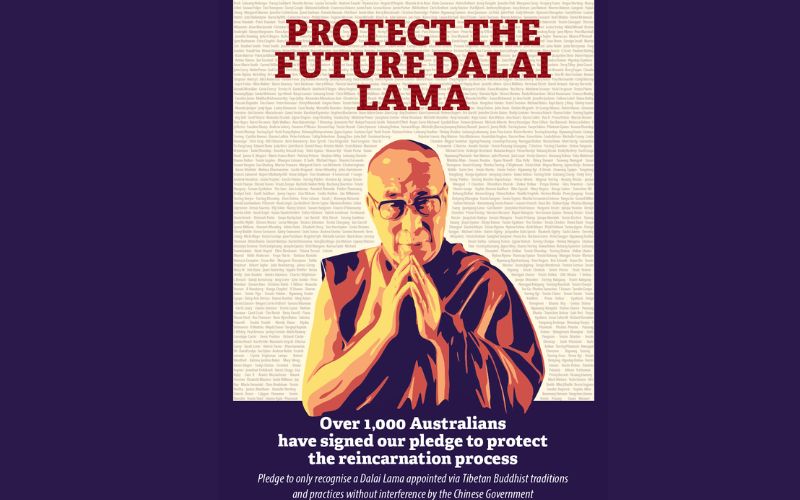 Protect the future Dalai Lama: Tibet Lobby Day 2022 by Australia Tibet Council
Canberra: Tibet Lobby Day is an annual event where Australia Tibet Council take our supporters and Tibetans to meet with Parliamentarians to talk about different issues concerning Tibetans.
The website noted, "We strive to make human rights issues in Tibet an important part of Australia's relationship with China. We do this by engaging our political leaders and ensuring the voices of our community and Tibetan-Australians are heard."
This unique advocacy event typically involves bringing more than a hundred Tibet advocates to Washington, DC, to inform and lobby their members of Congress on the Tibet issue. In 2020 and 2021, the event took place remotely to safeguard the health of all those involved.
This year, Australia Tibet Council's Tibet Lobby Day events called for pledge to only recognize a Dalai Lama appointed via Tibetan Buddhist traditions and practices, without interference by the Chinese Government, ask your MP and Senators to meet with our Tibet Lobby Day delegates and call on your representatives; your local MP and your state's Senators to support Tibet and meet our Lobby Day delegates.
CCP want to appoint their own Dalai Lama's reincarnation. The atheist Chinese Communist Party bans practicing religion through repressive policies and arbitrary policing in Tibet. Having a photo of the Dalai Lama is considered reason enough to have you arrested.
Previous Tibet Lobby Day events called for the passage of the Reciprocal Access to Tibet Act and the Tibetan Policy and Support Act, both of which passed and became law in 2018 and 2020, respectively.
They had held online Tibet Lobby Days in 2020 and 2021 "to make sure we kept speaking up for Tibet even as we were living through strange times". However, all restriction has now been lifted and this year we return to Canberra in person.
By Team TRC