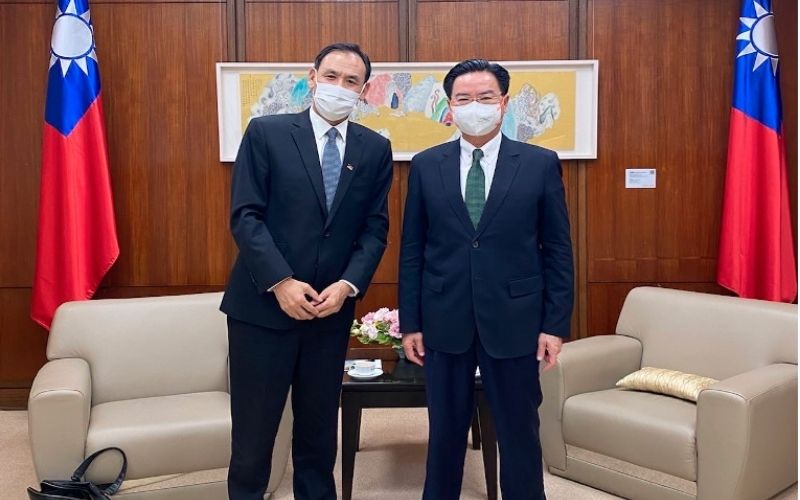 Representative Kelsang Gyaltsen Meets Taiwan's Foreign Minister
Taipei: Representative Kelsang Gyaltsen of the Office of Tibet based in Taiwan met Taiwan's Foreign Minister Joseph Wu at the Ministry of Foreign Affairs, Taipei on 25 May.
During the half an hour meeting, Representative Kelsang Gyaltsen and Taiwanese foreign minister Joseph Wu discussed various issues of global and local importance. Representative Kelsang Gyaltsen briefed the Foreign Minister about the long-life prayer offered by the Sakya School of Tibetan Buddhism led by Sakya Trichen Gongma Rinpoche and 43rd Sakya Trizin Gyana Vajra Rinpoche. He also updated the minister about His Holiness the Dalai Lama's health and recent programs.
Representative Kelsang Gyaltsen particularly spoke to the foreign minister about three main issues namely the issuance of visa on Identity Certificates (IC) held by Tibetans, provision of skills and mechanical trainings for Tibetans as part of Taiwan's efforts outreach campaign in the global south, and invitation of His Holiness the Dalai Lama to visit Taiwan from the Taiwanese government. He said a lot of Taiwanese devotees request the OOT Representative to urge the Taiwanese government to invite His Holiness the Dalai Lama to Taiwan.
Earlier on 24 May, Representative Kelsang Gyaltsen, at the invitation of Social Science department of a university, addressed over 60 students on the present, past and future status of Tibet.
(Information supplied by Tibet.net)
By Team TRC