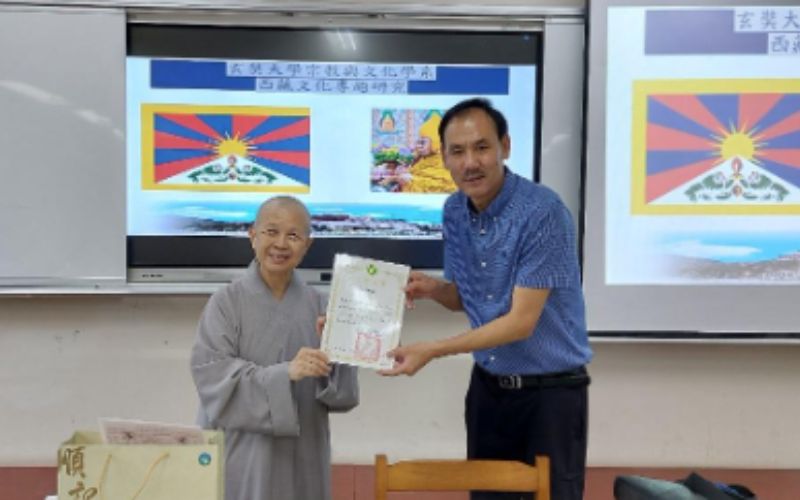 Representative of Taiwan's Office of Tibet Begins Training Tibetology at Hsuan Chuang University
Taipei: Representative Kelsang Gyaltsen Bawa kicked off instructing courses on Tibetology and Tibetan Buddhist Studies at Hsuan Chuang University following the meeting between the Centre for Tibetan Buddhist Studies of Hsuan Chuang University and the Office of Tibet (OoT) in Taiwan on 16 March 2022.
On the afternoon of 11 September 2022, Representative Bawa commenced teaching a course on geography, traditions, and the current political status of Tibet to a class of 17 students, plus an observer after the university's professor Zhao introduced the Representative to the students. Professor Zhao further presented self-authored books and a teaching certificate to the Representative.
Furthermore, the Representative acquainted the students with various subjects, from Tibet's landform to religious beliefs and traditions, during the first class of the newly introduced course.
As per the curriculum, the first academic term of Tibetology and Tibetan Buddhist Studies will complete within eight weeks, during which Representative Bawa, OoT's Buddhist teacher Geshe Tenzin Namdrol, former Buddhist teacher Geshe Jamphel Choezin, Geshe Wangchuk and Geshe Ha Shin Rinpoche will take classes on a range of topics associated with Tibet and Tibetan Buddhism. Subjects of the eight-week course include the history of Tibetan civilization, the advent of Buddhism and its division into four schools in Tibet, the reincarnation system, the Tibetan monastic education system, etc.,
Similarly, the team will arrange subjects for the subsequent course term after concluding the ongoing term on 1 January 2023.
By Team TRC