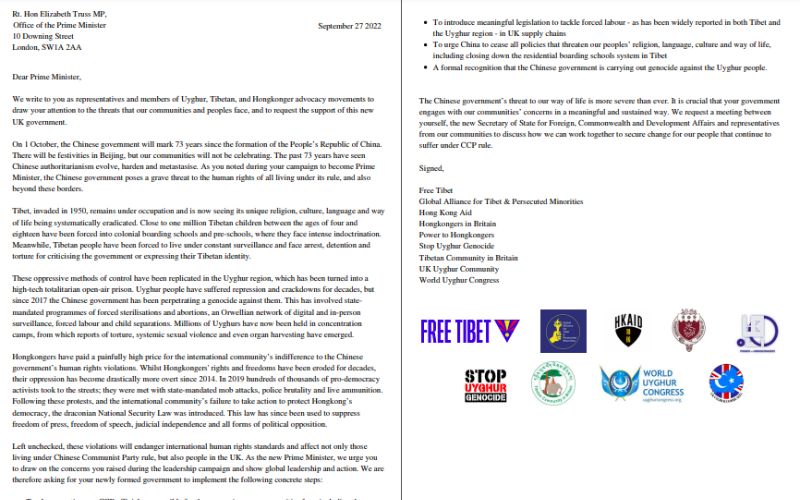 Rights Groups urge UK PM to recognize CCP genocide in Tibet and Xinjiang
Source: Stop Uyghur Genocide
The Representatives and members of Uyghur, Tibetan, and Hongkonger advocacy movements written a letter to UK Prime Minister Mary Elizabeth Truss to draw attention to the Chinese government grave threat to the human rights of all living under its rule, and also beyond these borders.
They noted in letter that, "On 1 October, the Chinese government will mark 73 years since the formation of the People's Republic of China. There will be festivities in Beijing, but our communities will not be celebrating. The past 73 years have seen Chinese authoritarianism evolve, harden and metastasise."
They also mentioned that, "Tibet, invaded in 1950, remains under occupation and is now seeing its unique religion, culture, language and way of life being systematically eradicated. Close to one million Tibetan children between the ages of four and eighteen have been forced into colonial boarding schools and pre-schools, where they face intense indoctrination. Meanwhile, Tibetan people have been forced to live under constant surveillance and face arrest, detention and torture for criticizing the government or expressing their Tibetan identity."
Rights groups urged PM Liz Truss to implement few concrete steps, which are to place sanctions on CCP officials responsible for the oppression our communities face, ban on Hikvision and Dahua, which are facilitating and profiting from the atrocities taking place across Tibet, the Uyghur region and Hong Kong and Recognize genocide in Xinjiang.
Addition to that, rights groups also urged to introduce meaningful legislation to tackle forced labour - as has been widely reported in both Tibet and the Uyghur region - in UK supply chains. To urge China to cease all policies that threaten our peoples religion, language, culture and way of life, including closing down the residential boarding school's system in Tibet. A formal recognition that the Chinese government is carrying out genocide against the Uyghur people.
Read the complete letter here
Edited & Collated by Team TRC