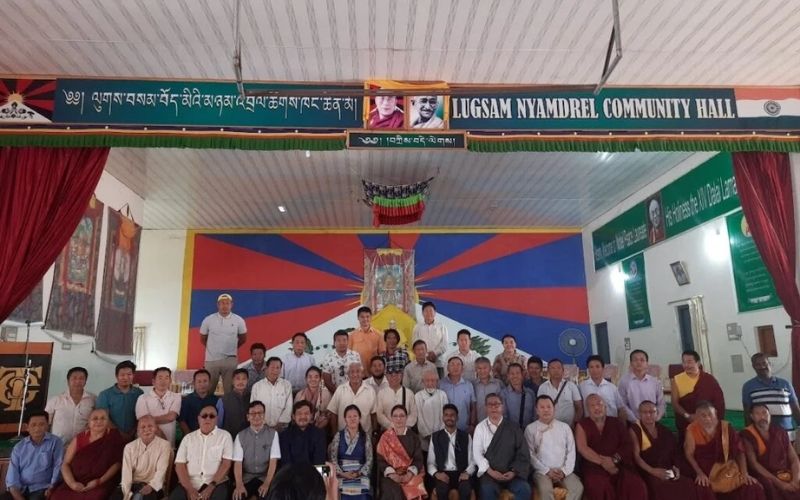 Member of National Commission for Minorities visits Tibetan villages in the South.
Dharamshala: Rinchen Lamo, a member of the National Commission for Minorities, Government of India, visited Tibetan Settlements in South India from 30 March to 12 April.
Upon her arrival at Belguam Airport, Chief Representative Officer (CRO) of South Zone, Mundgod Settlement Officer (SO), Chair and standing committees of Himalayan Indian Buddhist Students Welfare Association cordially received Rinchen Lamo to Drepung Loseling meditation and science center.
In the following two days, she toured every Buddhist monasteries in the region and interacted with abbots and treasurers of the respective monasteries discussing their hurdles. In addition, she gathered representatives of the regional National Commission for Minorities and the district magistrate to appeal instant resolution in uplifting Tibetan residents' problems. At the same time, she further urged the gathering to issue an entreaty within fifteen days.
Escorted by Settlement officers and heads of the Tibetan community, National Commission for Minorities' member inspected Gyudmed Monastery and Dzongkar Choede Monastery in Hunsur, followed by monasteries in Bylakuppe. On 6 April, Rinchen convened a discussion regarding welfare of Tibetan residents with the representatives from Lugsum Samdupling and Dekyi Larso settlement.
According to reports, on 9 April, she paid a visit to Dalai Lama Institute for Higher Education and Tibetan Medical & Astrological Institute en route to Bangalore. Similarly, she interacted with Tibetan students in Bangalore Youth Hostel, where she informed them about Government of India's provision for minorities and advised students to be sincere in their studies.
Before concluding her official visitation, Rinchen called on Karnataka's Chief Secretary Sh. P. Ravi Kumar and Sh. Manivannan, Secretary of National Commission for Minorities in Karnataka, along with other heads of National Commission for Minorities in the state, to whom, she appraised the struggles encountered by Himalayan students and Tibetan settlers. The undertaking was also taken part by a representative from Chief Representative Office of South Zone.
(Information Supplied by Tibet.net)
By Team TRC