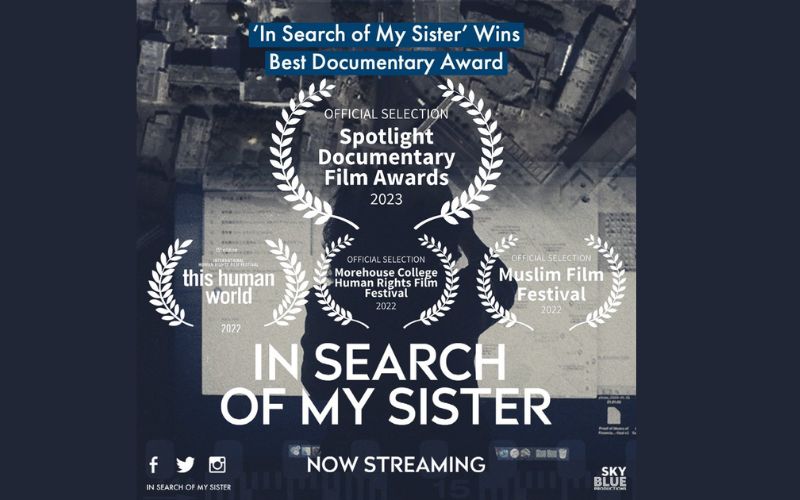 Rushan Abbas's "In Search of My Sister" named Best Documentary
The documentary film "In Search of My Sister" has won the award for best documentary. The critically acclaimed film, which has been screened in over a dozen countries and has been selected for international film festivals, is now available.
The film tells the moving story of American Uyghur activist Rushan Abbas, whose sister is one of the 1.8 to 3 million Uyghurs abducted by the Chinese Communist Party. She sets out on a journey to raise awareness and discover information about her missing sister's whereabouts. Rushan Abbas, a human rights activist, Christo Buschek, the 2021 Pulitzer Prize winner in International Reporting, and Jawad Mir, the director and producer of "In Search of My Sister," all attended the screening and took questions from the audience.
"My sister is now 60 years old. She is spending her BD in prison for the fourth year in a row. It's been 1350 days since she was abducted by the #CCP. Now, I fight against #UyghurGenocide at the expense of my loving sister's freedom, and my love for her drives me forward", tweeted Rushan Abbas.
"Chinese State Media claims that the directors and producers of 'In Search of My Sister' colluded with the film's protagonist, Rushan Abbas, during production. In reality, it was an entirely independent production that also presented the CCP viewpoint".
Rushan Abbas began her activism while still a student, when she took part in pro-democracy demonstrations at Xinjiang University in 1985 and 1988. Ms. Abbas has been an outspoken advocate for Uyghur human rights since her arrival in the United States in 1989.
Edited & Collated by Team TRC