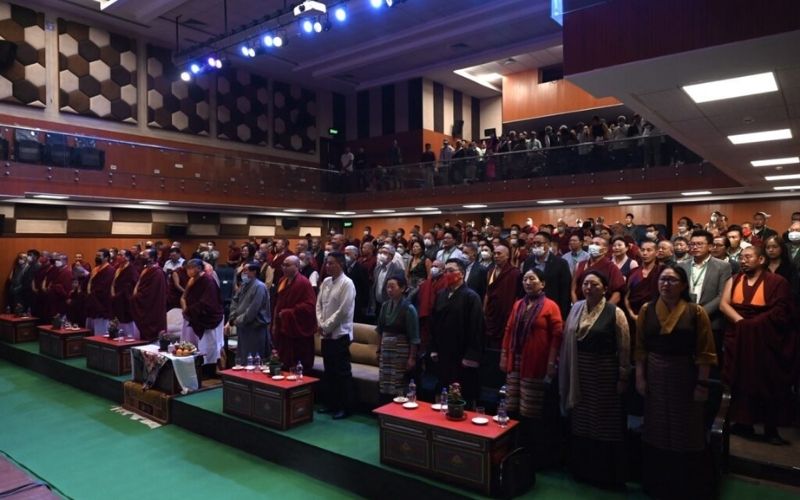 Sakya Tenshug Committee Hosts Gala Dinner for Leaders of Central Tibetan Administration and Tibetan NGOs
Dharamshala: The Sakya Tenshug Committee hosted a gala dinner reception on 25 May for the leadership of the Central Tibetan Administration and Tibetan NGOs based in Dharamshala.
The gala dinner was attended by Sakya Gongma Trichen Rinpoche and 43rd Sakya Trizin Khondung Gyana Vajra Rinpoche along with 42nd Sakya Trizin Ratna Vajra Rinpoche, and Khondung Avikrita Vajra Sakya Rinpoche. The heads of the Sakya school are currently in Dharamshala to offer a long-life prayer (Tenshug) to His Holiness the Dalai Lama.
The gala dinner reception which took place at the Tibetan Institute of Performing Arts (TIPA) was also attended by Interim Chief Justice Commissioner Karma Dadul, Speaker Khenpo Sonam Tenphel and Sikyong Penpa Tsering along with Deputy Speaker Dolma Tsering, Justice commissioner Tenzin Lungtok, Kalon Tharlam Dolma, Kalon Gyari Dolma, and Kalon Norzin Dolma.
The reception was also attended by members of the standing committee of the Tibetan Parliament, representatives of the four schools of Tibetan Buddhism and Bon in the Tibetan Parliament, secretaries of His Holiness the Dalai Lama's private office, secretaries of CTA's seven departments as well as the Tibetan Supreme Justice Commission, parliamentary secretariat and Kashag Secretariat.
Representatives of Tibetan monasteries based around Dharamshala including Namgyal monastery, representatives from non-governmental Tibetan organisations like Tibetan Children's Village, Tibetan Youth Congress, Students for a Free Tibet, Tibetan media organisations and other organisations also took part in the reception.
(Information supplied by Tibet.net)
By Team TRC