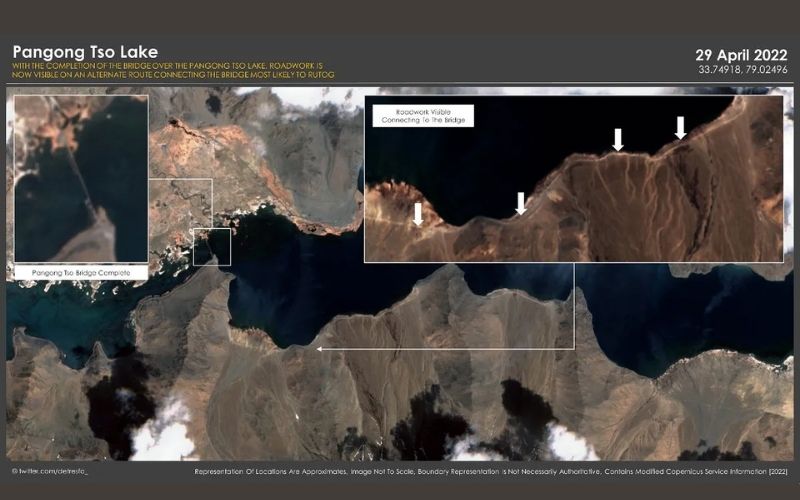 Satellite photographs reveal China has completed the Pangong Tso bridge
New Delhi: China has finished the construction of a strategic bridge across the Pangong Tso on land it controls near Khurnak, reported The Print. Khurnak is one of the narrowest points of the 134-kilometre-long Pangong Lake.
According to the most recent satellite images, China is now constructing roads to connect this to one of its largest military garrisons in the region.The Print had reported in January that the Indian defence and security establishment had discovered that a bridge was being built over the northern part of Pangong Tso using prefabricated constructions.
According to sources, this was built to counter any future moves by the Indian Army along the lines of its August 2020 operation, which resulted in the capture of commanding heights on the southern banks of the Pangong Tso.
The bridge, which was finished in the first week of April, will cut a 180-kilometer loop across Rutog county in Tibet, where the People's Liberation Army (PLA) has a significant garrison, from Khurnak to the south banks.
Damier Symon, a satellite imagery analyst who goes by the Twitter handle @detresfa_, shared a photo claiming that roadwork has begun to connect the bridge, which is most likely to Rutog, so that Chinese soldiers can move in fast. The PLA had already begun cutting a road from the bridge, which will be added to a new route for faster deployment of soldiers and equipment.
Reports suggest that this construction is to ensure that Chinese movement through that area is quicker and they have the ability to scale up presence in a big way. China had been ramping up its infrastructure build-up along the Line of Actual Control (LAC) including the construction of new roads, surface-to air-missile sites, heliports, and dwellins.
(Information Supplied by The Print)
By Team TRC