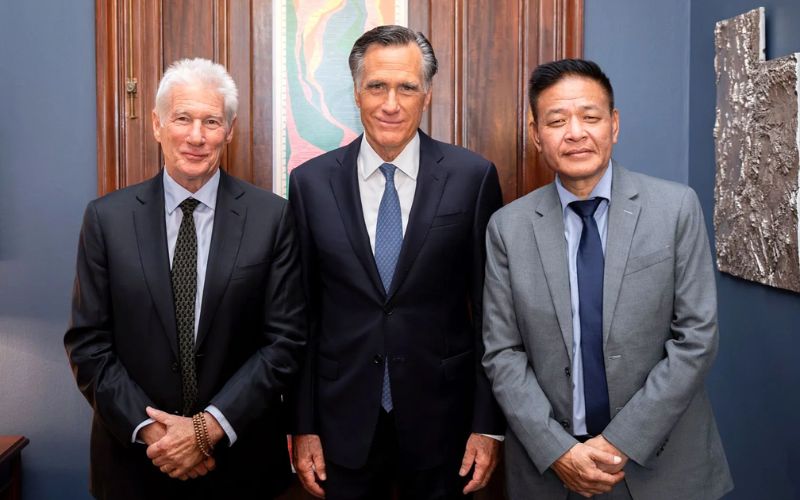 Sen. Mitt Romney and Actor Richard Gere Hold Talks with Tibetan Leader Sikyong Penpa Tsering to Advocate for Tibet`s Rights
In a significant diplomatic effort to bolster support for Tibetan rights and autonomy, United States Senator Mitt Romney met with acclaimed actor and Tibetan activist Richard Gere, alongside Sikyong Penpa Tsering, the leader of the Tibetan government in exile, on Tuesday. The discussions primarily centered around the urgent need to address human rights abuses in Tibet and preserve Tibetan culture amid growing concerns of cultural erosion under Chinese rule.
Senator Mitt Romney, a Utah Republican, expressed his deep concern for the ongoing human rights abuses faced by the Tibetan people at the hands of the Chinese Communist Party. "Not only does the Chinese Communist Party carry out gross human rights abuses on the Tibetan people, but they aim to erase Tibetan culture completely," Romney asserted.
Richard Gere, renowned for his commitment to the cause of Tibetan independence, is the chairman of the International Campaign for Tibet. His longstanding advocacy work and reverence for the Dalai Lama, whom he considers a teacher and inspiration, have made him a key figure in the movement to raise awareness about Tibet's plight.
While Beijing maintains its rule over Tibet, this sovereignty is contested by Tibetan locals and various advocacy groups, including Gere's International Campaign for Tibet. Gere, who previously visited Capitol Hill in March, met with congressional leaders to promote the Resolve Tibet Act. He articulated his optimism, stating, "I see this as a moment of possibility, and I want us all to grab this now. This bill that we've been talking about is a part of that. It's setting the record straight. It's setting history straight. It's setting our own motivation and making it as pure as it possibly can be that we are there for the Tibetan people."
In this recent meeting, Senator Romney also conferred with Sikyong Penpa Tsering, the head of the Central Tibetan Administration, which leads the Tibetan people in exile. This underscores the United States' commitment to supporting Tibet's quest for autonomy and the preservation of its distinct cultural heritage.
Richard Gere and Sikyong Penpa Tsering continued their advocacy efforts by engaging with other congressional leaders and representatives from the U.S. State Department, signifying the widespread support for the Tibetan cause within the U.S. government.
Senator Mitt Romney's involvement in Tibet-related issues extends to his support for bills such as the bipartisan Strategic Competition Act of 2021, which endorses religious freedom for Tibetan Buddhists to determine the next Dalai Lama without Chinese interference. These combined efforts reflect a growing international concern for Tibet's future, as leaders like Romney and Gere strive to ensure the rights and cultural identity of the Tibetan people are upheld.
Edited and collated by Team TRC