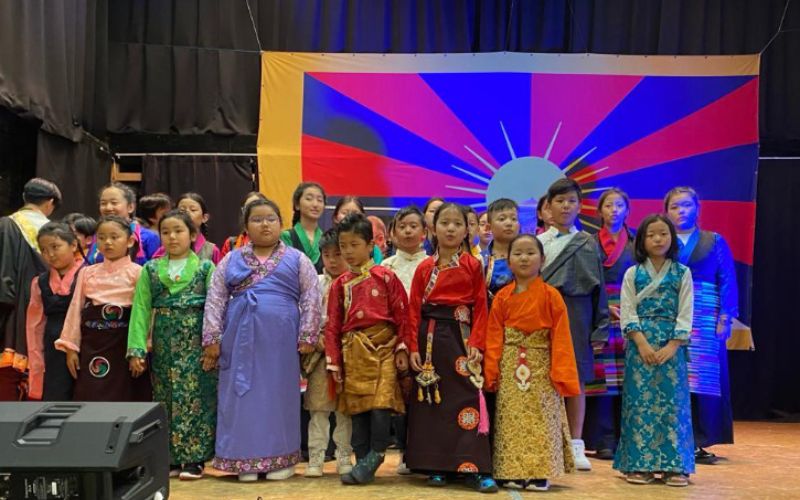 Sherab Nangje Weekend Language School Hosts Fundraising Cultural Event
Brussels: Belgium Community's Sherab Nangje Weekend Language School organised a fundraising cultural event in Antwerp on 18 June 2022.
Secretary Thrinley Wangdue from the Office of Tibet, Brussels, attended the event as chief guest along with the President of Tibetan Community Palden Dhondup and representatives of other Tibetan associations in Belgium.
The fundraising cultural event commenced with an offering of a mandala to portrait of His Holiness the Dalai Lama from the guests, followed by a Tashi Sholpa dance performance from the weekend school students. The parents and other attendees also performed cultural dances during the gathering.
In his opening address, the chief guest underscored His Holiness' establishment of separate schools for Tibetans to preserve Tibetan religion, culture and language while lauding the staff and teachers of Tibetan weekend schools abroad for their contributions. At the same time, he further reminded the substantiality of Tibetan weekend schools in perpetuating the preservation and promotion of Tibetan language and cultures in diasporic communities and, hence, urged younger generations to become "two-winged" Tibetans possessing modern world education coupled with traditional Tibetan education.
In addition to this, the secretary of the Office of Tibet appealed to Tibetans in Belgium to participate in the forthcoming demographic survey as well as the 16th Kashag's V-TAG initiative.
Palden Dhondup, the President of the Tibetan Community, assured continual support to Sherab Nangje Weekend Language School and Jamyang Lophel Sunday School before concluding the event with a vote of thanks from the Director of the Weekend School, Tenzin Wangpo.
(Information Supplied by Tibet.Net)
By Team TRC