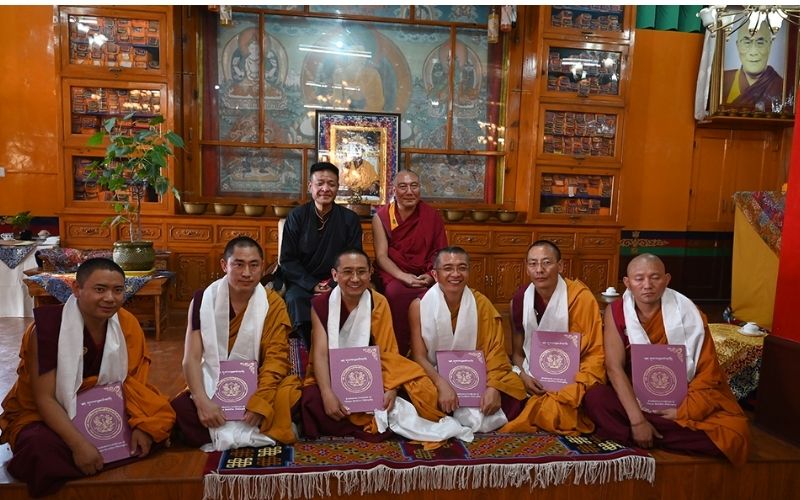 Sikyong attends the Kirti Monastery's graduation ceremony.
Dharamshala: "The international community's growing solidarity and support for the Tibetan cause stems from Tibetan Buddhism's spiritual consolation," said Sikyong Penpa Tsering in his keynote presentation at Kirit monastery this morning. Sikyong was in attendance during the monastery's Vinaya, Abhidharma, Paramita, and class tenth graduation ceremonies.
"It is due to His Holiness the Dalai Lama's and the religious heads' sheer blessing and benevolence for enabling Tibetan monastic institutions to become the most sought after institutions for foreigners interested in studying Buddhism," he added, and urged mobilising and integrating the potential and resources of administration and monastic institutions for the greater cause of Tibet, noting that "defending the basic rights of Tibetans in Tibet as not only a political ob" It is a joint obligation that has the ability to strengthen our cause."
While the lack of diversity and China's one-China policy restrict Tibetans' religious and cultural freedom, Sikyong criticised Tibetan self-immolations. However, he applauds the spirit of patriotism displayed, particularly by the monks and laypeople of Tibet's Kirti region, where the biggest resistance to China's policies has been recorded. He also praised the exiled Kirti monastery for its outstanding contributions to the preservation and advancement of Tibetan Buddhism, while advocating for a focus on reasoning and logical experimentation with holy texts rather than just repeating mantras.
When speaking to the growing community of monks from the Himalayan region, Sikyong said they had the right to promote the pragmatism of Tibetan Buddhism in their home countries, according to the expert. Monks from the Himalayan region make up roughly 66 percent of the overall monk population in around 288 monasteries, according to Department of Religion figures. Tibetans, Mongolians, and other nationalities made up the rest.
Around 30 graduates were honoured, and before the event, Sikyong toured the monastery library, which featured a large collection of Kiriti Rinpoche's writings as well as monastery publications.
(Information Supplied by Tibet.Net)
By Team TRC