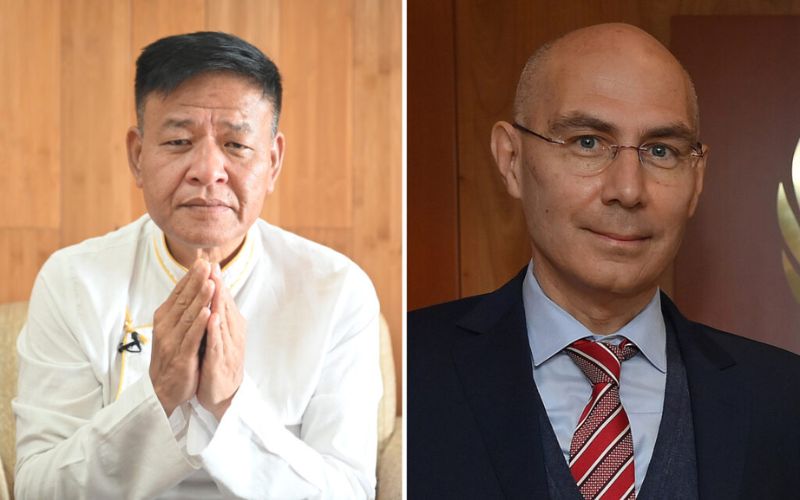 Sikyong greets new UN High Commissioner for Human Rights Volker Turk
Dharamshala: Sikyong Penpa Tsering of the Central Tibetan Administration wrote to new UN High Commissioner Volker Turk extending congratulations on the latter's appointment last Thursday, 8 September following the approval of the General Assembly.
Sikyong wrote, "On behalf of the Central Tibetan Administration and the Tibetan people, I warmly congratulate you on your appointment as UN High Commissioner for Human Rights. We are confident that the extraordinary commitment you have shown throughout your career to upholding the rule of law, justice, and accountability will serve you well in this critically important role".
Sikyong expressed gratitude for the release of the UN High Commissioner for Human Rights assessment report on the human rights situation in Xinjiang, known to Uyghur people as East Turkestan. The report signifies an authoritative confirmation of the extent of human rights atrocities committed by the Chinese Communist Party in East Turkestan that may constitute international crimes, including crimes against humanity. Likewise, he urged the OHCHR to push for the formal implementation of the report to ensure it has a real and practical impact on the ground.
Sikyong also called upon the OHCHR to conduct an assessment of the overall human rights situation inside Tibet, particularly investigating the situation of Tibetan children in the Chinese government-established colonial boarding schools, where almost a million Tibetan children in all of Tibet – representing nearly 80 percent of all Tibetan school children aged six -18 are reported to live separated from their families and they are subjected to intensified Chinese politicized indoctrination.
This system of colonial boarding schools reflects the PRC's systematic effort to obliterate Tibetan identity by removing a whole generation of Tibetans from their cultural roots, language, religion and way of life – the very pillars of Tibetan identity.
In addition, Sikyong highlighted the ongoing involuntary mass DNA collection carried out throughout Tibet causing alarming concerns for Tibetans.
"The OHCHR must therefore urgently call on the Chinese government to stop its implementation of the colonial school system and monitor and report independently on China's human rights violations in Tibet," Sikyong appealed while entrusting his trust and confidence in the able leadership of the new UN High Commissioner to effectively address the concerns mentioned.
By Team TRC