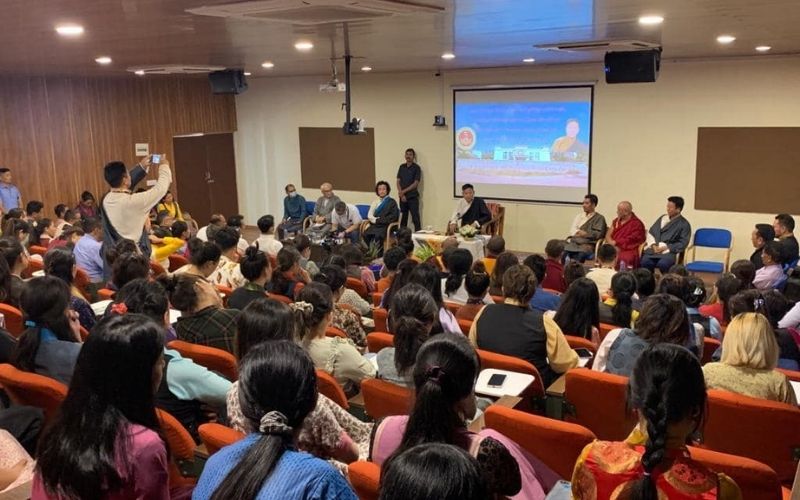 Sikyong emphasizes Tibetans to learn and take control of Tibet's narrative
Bangalore: Sikyong Penpa Tsering who is currently on his maiden visit to Bangalore had said the Central Tibetan Administration and Tibetan community in diaspora owes in-depth gratitude to the Indian government and its people for graciously hosting them and for protecting the vitality of Tibetan culture and religious tradition by offering a sanctuary for the later to survive.
As part of his final engagements in the capital of Karnataka, Sikyong addressed the administrator's led faculty and students of the Dalai Lama Institute for Higher Education (DLIHE) jointly with faculty and staff of Mentsekhang college.
Since assuming the office in May last year, Sikyong has committed to visitation and meeting members of Tibetan community in exile at least twice during his tenure. As such, within a year of taking charge, he had visited about 25 settlements across India where he engaged in various public addresses to ensure the public are made aware of the core commitments of the 16th Kashag and its activities.
At his public address today, Sikyong re-established the two primary commitments of the present Kashag to firmly resolve the Sino-Tibetan conflict and to attend to the welfare need of the Tibetans in exile.
He also talked about other key objectives of the Kashag including imbibing digitization in the governance, surveying of Tibetan population in exile, and nurturing and enhancing optimal skills of CTA staff through capacity building projects among other things.
"To attain a resolution for Sino-Tibetan conflict, highlighting China's atrocities alone is not sufficient. While our counterparts are engaged in a desperate attempt to gain legitimacy over Tibet from the international community, it is highly imperative that Tibetans especially the youth know the historical facts about Tibet and then take control of the narrative.
The Kashag remains firmly of Middle Way Approach as its fundamental political stand and now we need to explore the ways and tactics to achieve objective of the said approach" stated Sikyong and assured transparency and accountability in his governance.
While rebuking certain divisive activities perpetrated in the community intended exclusively to manipulate the public and destroy unity in community, Sikyong reminded members of the community to indulge only in the factual and credible information to ensure communal harmony devoid of unnecessary clashes. He also reminded that despite everything, Tibetans should exert every effort into materializing the vision and aspiration of His Holiness the Dalai Lama.
(Information supplied by Tibet.net)
By Team TRC