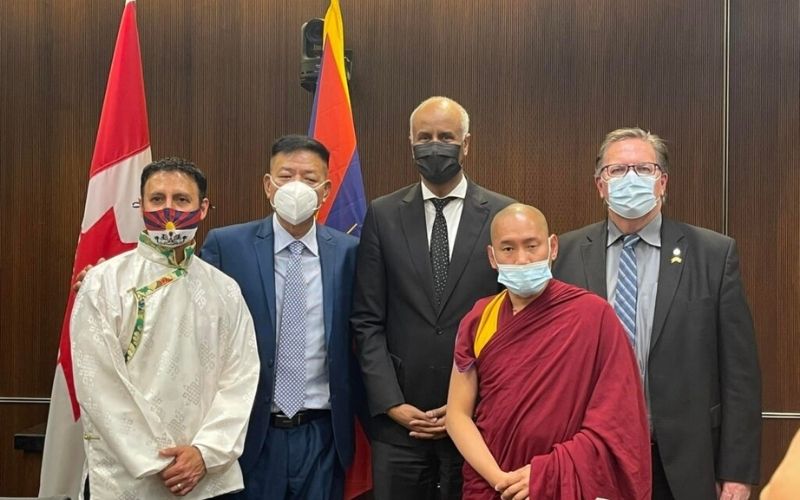 Sikyong Penpa Tsering is honoured at a reception hosted by the Canadian Parliamentary Friends of Tibet.
Dharamshala: Sikyong Penpa Tsering attended a reception held by the Canadian Parliamentary Friends of Tibet in commemoration of his visit after arriving in Ottawa. At the reception on Parliament Hill in Ottawa, Sikyong Penpa Tsering was joined by Zeekyab Rinpoche and Representative Namgyal Choedup.
Hon. Ahmed Hussen, Minister of Housing, Diversity and Inclusion, MP Arif Virani, Chair of the Parliamentary Friends of Tibet, MP Randall Garrison, MP Elizabeth May, MP Garnett Genius, MP James Maloney, Mehmet Tohti, Executive Director of the Uyghur Rights Advocacy Project, Herb Davis, Canada Tibet Committee Advisor, Charles Burton, Assistant Professor of Politics at Brock University, and others were among those who attended the ceremonial welcome reception.
In his opening remarks, Canadian MP Arif Virani welcomed the reception's guests and congratulated Sikyong Penpa Tsering on his election as CTA's head (last year), followed by words on Tibet's "stolen child," the 11th Panchen Lama Gedhun Choekyi Nyima. The abbot of Tashi Lhunpo Monastery, the home monastery of the succeeding Panchen Lamas, Zeekyab Rinpoche Tenzin Thupten Rapgyal, has accompanied the Sikyong on this visit to emphasise the case of the 11th Panchen Lama.
Sikyong expressed his gratitude to the MPs for showing up to voice their support for Tibet's struggle after a briefing on his official tours to Europe and America since taking office in May. Sikyong also informed the audience on the significant Tibetan community in Canada, which is the second-largest Tibetan diaspora community in the world.
Sikyong also shed light on Susanna Rijnhart, the first Canadian to visit Tibet as an independent missionary in 1895, and her son Charles Carson, who became the first Canadian to be born and die in Tibet.
Sikyong Penpa Tsering later met Netzero's Rafal and attended a reception organised by Canada Tibetan Committee.
(Information Supplied by Tibet.Net)
By Team TRC