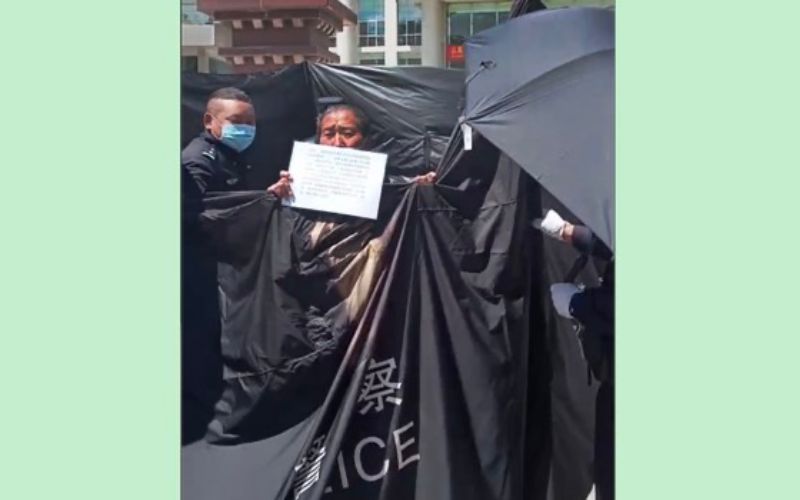 Sister of Imprisoned Tibetan Businessman Arrested and Beaten for Protesting His Detention
The sister of a businessman who is serving a life sentence in Tibet has been arrested and beaten for protesting for her brother's release. Gonpo Kyi and her husband were removed by Chinese police from the area in front of the court on Monday, according to a source who spoke to Radio Free Asia. Police covered her with a large black banner as they took her away, the source said.
Kyi and her husband were arrested on Wednesday and detained for two nights at Lhasa's detention center, where they were both beaten and tortured, another source said. Although they have been released, the Chinese police have warned them to stop protesting, or they will land themselves in prison.
Kyi's brother, Dorjee Tashi, was arrested in July 2008, following mass Tibetan protests against Chinese rule that spring, and was branded a "secessionist" for alleged covert support to the protesters and political connections with the Tibetan community in exile, which he later denied. Though the political allegations against him were dropped, Tashi was indicted for loan fraud and sentenced to life in Drapchi Prison in Lhasa on what rights groups and supporters say were politically motivated charges.
Kyi has been protesting for her brother's release and has been previously arrested and beaten for doing so. She has also staged peaceful protests at the courthouse and held sit-ins outside another courthouse in the capital. Despite the risks, she said she and her husband are ready to go to prison to protect her brother, even if it costs their lives. According to her, she and her husband have the right and entitlement to appeal for Tashi's release under the law.
Before his arrest, Tashi was a member of the Chinese Communist Party and a successful businessman who owned a luxury hotel chain and real estate companies in Tibet. He was praised for his philanthropic activities that contributed to poverty alleviation and economic development in the region.
Edited and collated by Team TRC