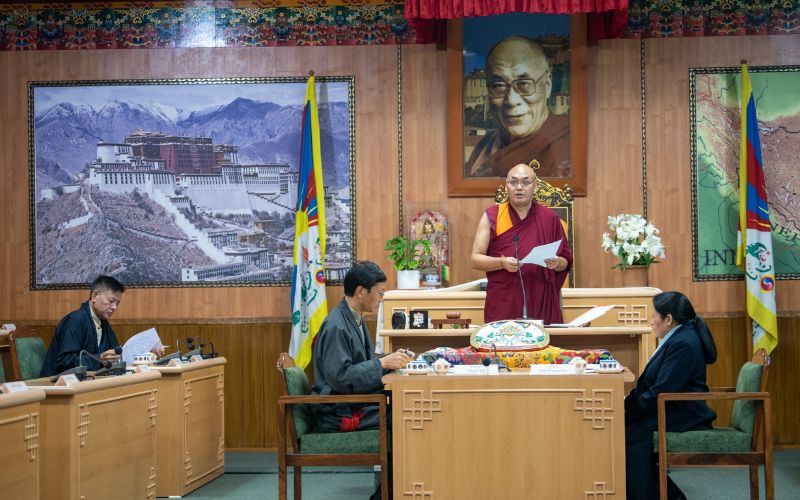 Sixth Session of Tibetan Parliament-in-Exile Commences with Solidarity Resolution for Tibetans Inside Tibet
The sixth session of the 17th Tibetan Parliament-in-Exile commenced on 19th September 2023, marked by a solemn seven-point solidarity resolution for Tibetans inside Tibet. The session, scheduled from September 19th to 28th, opened with a call for unity and a commitment to preserving Tibet's culture, religion, and language.
The parliament hall saw the assembly of prominent Tibetan leaders, including Speaker Khenpo Sonam Tenphel, Deputy Speaker Dolma Tsering Teykhang, Sikyong Penpa Tsering, and ministers from the Central Tibetan Administration, alongside dedicated parliamentarians.
In his opening address, Speaker Tenphel highlighted the Parliament-in-Exile's achievements, such as visits to Tibetan settlements, strategic meetings, and advocacy programs across India. He emphasized the importance of expanding political campaigns concerning Tibet's status, both internally and on the global stage.
Speaker Tenphel also addressed the grim situation inside Tibet and announced an official solidarity resolution, paying tribute to those who have faced hardships. He provided updates on the Rules and Regulation Review Committee, formed in response to the fifth session's resolution, which is expected to submit its reviewed report by February 2024. Additionally, the formation of the 12th Public Accounts Committee was announced.
The Speaker concluded his address with a plea for unity among Tibetans and coordinated efforts to resolve the Sino-Tibetan conflict.
A panel of Chairpersons and an Ad Hoc Committee were appointed in accordance with parliamentary procedures. An official obituary reference was made for former Tibetan Parliamentarian Tsultrim Tenzin, followed by a moment of silence in his memory.
Parliamentarian Geshe Atong Rinchen Gyalsten presented a seven-point official resolution expressing solidarity with Tibetans inside Tibet, receiving support from parliamentarian Khenpo Kada Ngedup Sonam. The resolution was deliberated upon, and parliamentarians extended their support and provided valuable feedback.
Edited and collated by Team TRC